€9 Million MODAClouds Project concludes with the release of Multi-Cloud DevOps Toolbox and the creation of MODAClouds MultiClouds Alliance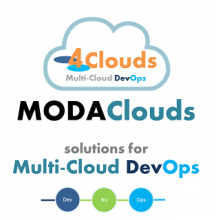 The MultiClouds Alliance Is designed to evolve technologies focused on Multi-Clouds, DevOps and Business-Driven Quality of Service using the baseline technologies provided by MODAClouds Toolbox that allows you to model, develop, deploy, operate, monitor and control cloud applications across multiple clouds.
At the end of the project, the final version of
MODAClouds DevOps Toolbox for Multi-Clouds
has been released. The Toolbox comes with a set of tools and a methodology that take the requirements from Dev teams, apply them on the Ops side, and close the circle by feeding information and insights extracted from running environments back to the Dev side to improve or correct cloud applications. These MODAClouds innovations and technologies have also been packaged into three different public demonstrator tools that are accessible in the website MultiCloudDevOps.com to test the technologies.
With MODAClouds, you can plan your cloud strategy taking advantage of using what you need from the best, whilst still retaining control. Using the MultiCloud DevOps Toolbox you can exploit the benefits of working with multiple clouds, and also be sure that your cloud infrastructure and services will always meet your business requirements.
Smart organizations are using various cloud services to create and assess agile IT services to empower their business.
MODAClouds
can be seen as a set of tools that facilitates adoption of business and technical requirements very early into the application development lifecycle, to later enable operations energized with monitoring and self-adaptation capabilities in multi-cloud environments to comply with expected operational quality levels.
Speaking at the conclusion of the project, Service Delivery Manager at Flexiant, Jonathan McCrimmond, said: "The ability for DevOps to build, deploy, configure, run, publish, monitor, load balance and auto-scale applications straight to the cloud or multiple clouds of their choice, without relying on the cloud provider's specifics is simply something our customers want."
MODAClouds MultiClouds Alliance
MODAClouds Project has also created MultiClouds Alliance, an initiative with the objective to promote and evolve technologies focused on Multi-Clouds, DevOps and Business-Driven QoS. The MODAClouds Project is looking for members to join their new MODAClouds Alliance, open to any organization willing to participate, as members or associates, in the promotion and the development of the future of technologies for multi-cloud scenarios. 
The initiative is supported by world class companies such as CA, ATOS, Politecnico Di Milano and other members of the consortium with relevance in the European academic and industry areas. 
Marco Comastri, President of EMEA at CA Technologies states that "MODAClouds is a further illustration of our commitment to help our customers to deploy, measure and ease the use of their Cloud services. We are proud to engage on this European project with prestigious partners and with the support of the European Commission". 
Speaking at the conclusion of the project, Project Coordinator, Elisabetta Di Nitto, said: "Existing members of the Alliance are committed to foster the evolution of solid technologies for Multi-Cloud Development & Operations paying attention to DevOps, resulting in an approach that allows cloud applications to be designed, monitored and governed by business and technical quality requirements. The Alliance initiative lives to grow the baseline technologies created during MODAClouds project in various areas of Cloud Development Lifecycle – modeling, deployment, operation, monitoring, performance optimization and selection of cloud provider."
The Alliance can be contacted via the website multiclouddevops.com/contact.html.
Details on the MODAClouds DevOps Toolbox
The Toolbox includes various features that are packaged in three main components: 
Venues 4Clouds that allows users to identify the right clouds for their applications based on business considerations. 
Creator 4Clouds that supports users in defining the architecture of their application, its QoS requirements and any technological constraint. Creator 4Clouds also supports optimal resource allocation as well as the definition of deployment recipes, monitoring rules and SLA.
Energizer 4Clouds that supports execution, monitoring, SLA management, and automatic and intelligent runtime reconfiguration of the application.
Following the DevOps paradigm, Energizer 4Clouds pushes back to Creator 4Clouds runtime information that can be used to learn new lessons and improve the architecture of the application. 
MODAClouds MultiCloud DevOps Toolbox explained
About MODAClouds
MODAClouds is a collaborative research partially funded by European Commission through the programme FP7 Cooperation in ICT in the period 2012-2015. The MODAClouds project consisted of a consortium of leading European companies and research institutions; Politecnico Di Milano (Italy), Sintef (Norway), Institutul E-Austria Timisoara (Romania), Imperial College of Science, Technology & Medicine (U.K.), Softeam (France), Siemens (Romania), BOC Information Systems (Austria), Flexiant (U.K.), Atos (Spain), and CA Technologies Development (Spain).
For more information
Contact