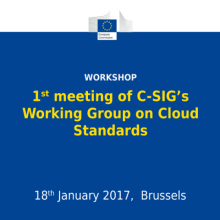 Event Date:
Wednesday, 18 January, 2017 - 10:00
DG Connect has organised the 1st meeting of C-SIG's Working Group on Cloud Standards taking place in Brussels on 18 January 2017.
In the Communication on "ICT Standardisation Priorities for the Digital Single Market" published in April 2016 the Commission identifies Cloud Computing as one of the five priority areas for ICT Standardisation and describes a set of actions to be implemented.
The maing objective of this workshop will be to:
Inform the participants on the actions proposed in the Communication.

Identify what can be the role of C-SIG in the implementation of these actions.

Initiate the discussion among different stakeholders and propose to the C-SIG plenary a way of involvement in this process.
CloudWATCH2 will present the ongoing work on the identification of the most commonly used security and interoperability standards in the market in the context of EC funded projects and extensions, refinement and gaps that need addressing, supporting relevant activities of the EC on standards as a follow-up of the ETSI Cloud Standards Coordination Task Force. The findings are based on surveying of 22 FP7 and H2020 projects on most common standards implementation use cases, gaps in standards and recommended priorities for new standardisation efforts.
Furthermore, a cloud security plugfest was organised to discuss the topic with cloud security cloud experts, from where we will share the main outcomes as well.
Venue:  Avenue De Beaulieu 25, Brussels, Room 0/S1
Attached you can find the agenda and and CloudWATCH2 presentations.