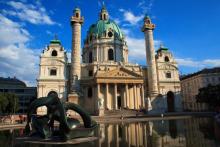 Event Date:
Monday, 5 September, 2016 - 08:00
The 5th European Conference on Service-Oriented and Cloud Computing (ESOCC 2016) is the premier conference on advances in the state of the art and practice of Service-Oriented Computing and Cloud Computing in Europe. This 5th edition will be held in Vienna, Austria, on 5-7 September 2016.
The conference will be the chance for researchers and practitioners in the areas of Service-oriented Computing and Cloud Computing to meet and foster new european and international collaborations.
ESOCC 2016 will include 3 days of:
workshops;
PhD Sympsium;
talks and presentations sessions.
EU-Funded projects on cloud computing are at the very center of this event:
in the morning of Monday 5th September, an EU Project Track during which several cloud releted EU Project will showcase their challenges and results;
in the afternoon of Monday 5th September, the CloudWave Training Session: a mix of talks, demonstrations and tutorials showcasing the main innovations of the CloudWave project.