Access to essential cloud services & tools now easier with new CloudWATCH2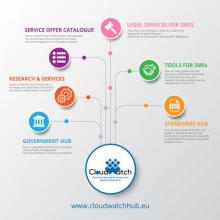 The new look for CloudWATCH2 is all about making tools and services on cloud computing even easier to find and use. Stop crawling the web for information on cloud computing - all the essential information you need from our experts is just one click away on www.cloudwatchhub.eu.
Brand new sections for stakeholders
Six new blocks giving direct access to the tools and services for different stakeholders along with all the latest news and events are a direct response to stakeholder feedback with content created by our editorial team with its deep and up-to-date knowledge on "all things cloud". New navigation menus mean you're never far from the home page.
Let's take a closer look at the newly designed user-friendly landing pages:
Hub for Small Businesses : tools and guides specifically designed for small tech firms and digital businesses to help you make a better and more secure move to the cloud. Learn from our Users Stories, plan your journey with the Cloud Procurement Tool, Risk Management Guides, Legal Services, and Cloud Standards Guide.
Legal Services for SMEs: a brand new legal section provided by ICT Legal with FAQs, tips, guide and checklists to help you understand legal terms within a cloud service contract and cloud service customer and provider obligations.
Hub for Government agencies and public administrations : easy-to-use services to help you define your "Cloud-First" strategy, including Security Certifications, Cloud Procurement Guide and PICSE Wizard, Cloud Standards Guide e Cloud Risk Management Guides.
Cloud Standards Hub: a new section dedicated to Testing, Profiling & Mapping Interoperability, Portability & Security Standards, all part of the drive towards a trusted and interoperable European Cloud Ecosystem to unleash the full potential of the cloud.
Hub on Cloud Research & Services: the only website with full coverage of projects funded through the EC's Unit E2 to advance cloud computing and realise its full potential and showcased at Concertation Meetings. Guide on Exploiting Project Results – expert guidance on taking new products and services to market. Clusters of EU projects – collaborative work on top challenges. The Cloud Clustering App maps cloud priorities for providers and customers.
But there's more!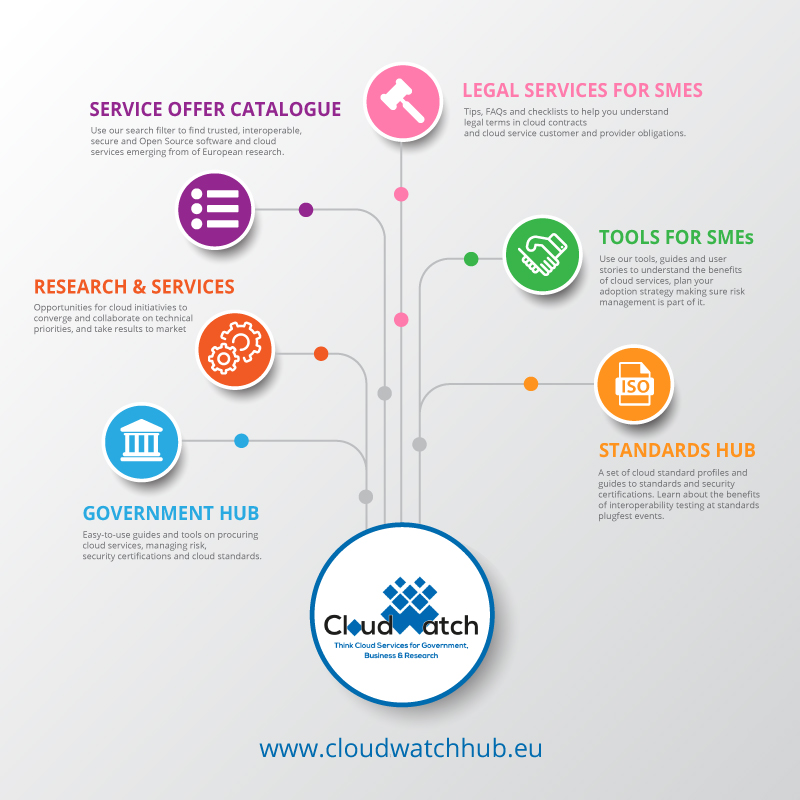 A new Catalogue of services
We also improve some tools on the portal such as Service Offer catalogue: new search filter helps you find trustable, interoperable, secure and Open Source software and cloud services emerging from European research. Use the search filters to browse the catalogue  for the services and technical advances that best meet your technical priorities, vertical market or future cloud strategy.  
What's in store?
In the second part of 2016 CloudWATCH2 website will expand its services and tools improve access to cloud services, such as: CloudScout Italian version, Cloud for Education in Partnership with Education on Cloud & Cloud Standards Mapping (early 2017) to analyse interoperability and security standards implementation in EC R&I projects to understand their value.
Stay tuned to www.cloudwatchhub.eu!