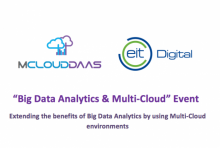 Event Date:
Monday, 5 December, 2016 (All day)
MCloudDaaS initiative is organising a in collaboration with EIT Digital Hub a workshop "Big Data Analytics & Multi-Cloud – Extending the benefits of Big Data Analytics by using Multi-Cloud environments" in Berlin that will take place next December 5th. Thi event is organise to show practical approaches on how to use the power and flexibility of Multi-Cloud solutions to improve BigData Analytics.
When: December 5th
Where: EIT Digital Berlin Node, Ernst-Reuter-Platz 7 | 6th floor, 10587 Berlin (Germany). 
Goal of the event
Showcase a real world utilization of Multi-Cloud technologies to leverage Big Data Analytics solutions and to share experiences and gather feedback from tech companies and real customers.
Who should attend
The event is a good opportunity for SMEs, startups and companies in the IT landscape, or IT departments from any other kind of enterprise, mainly interested in enabling technologies and innovative implementations in Big Data that want to create new solutions or services exploiting the benefits of Multi-Cloud scenarios.
How to get there
The event is going to be held with the collaboration of EIT Digital Berlin Node, and will take place in its facilities located at Ernst-Reuter-Platz 7|6th floor, 10587 Berlin (Germany).  For directions & transport options: http://www.eitdigital.eu/about-us/locations/berlin-node/visit
For more contact information you can write to: berlin@eitdigital.eu
Register here
If you would like to attend the event, please register before December 5th using the following registration form https://goo.gl/forms/NqOkPPmcxQQ4B3Lz2.