For borderless Cloud Computing between Europe and Brazil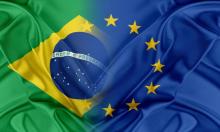 Cloud Computing is definitely on the up these days. Despite the economic crisis, this sector has grown considerably in recent years, acting as a catalyst for economic growth and new business opportunities. Both the private and the government sector are showing great interest in this technology, in order to be at the forefront of new developments and gain maximum competitive advantage on the international market.
In order to exploit the full potential of cloud computing, it is essential to find international solutions, reducing the barriers that exist when cloud services are traded over national boundaries. The most critical areas relate to data privacy and security, cybercrime and data portability.  It is important to foresee the future challenges posed by these areas, to get the most out of the Cloud across borders and to keep countries on the cutting edge of ICT. Europe and Brazil are aware of this and have joined forces to tackle the cloud challenge.
Europe and Brazil: getting the "Cloud-Work" done
The European Union and Brazil have joined forces to launch collaborative calls on cloud computing, with funds from the European Commission's Horizon 2020 programme and the Brazilian Ministry of Science, Technology, Innovation and Communication (MCTI), for research projects that will provide cutting-edge technologies for the definition, scoping and eventual creation of an EU-Brazil Open Science Cloud.
The overall goal is the development of innovative technologies for next generation cloud infrastructures and services able to tackle the challenges still open in Europe and Brazil, in order to achieve a mutually beneficial socio-economic impact.
What projects are Europe and Brazil currently engaged in for cross-border cloud computing?
Among the EU-BR collaborative projects still rolling out, two of them focus on very different but crucial topics related to Cloud Computing.
For the benefit of Massive Connected Societies, EUBra-BIGSea (http://www.eubra-bigsea.eu/) will focus on the development of advanced Quality of Services for Big Data applications. The project has the potential to impact the Big Data Market and benefit open source communities, as well as ICT-intensive organisations, such as SMEs. One practical use-case will be the prediction of traffic information in the Brazilian municipality of Curitiba, benefiting the citizens, who will receive updated information based on climate conditions and historical data. 
A  hot topic in Cloud Computing is data security and privacy. Since Cloud Computing means storing and accessing data and programmes over the internet, instead of on a computer hard disk, data owners still have big concerns about how safe their data is in the cloud. Since the future of cloud computing also relies on hosting big data applications, the SecureCloud project (https://www.securecloudproject.eu) focuses on data security and privacy of big data in cloud computing platforms.  The project will facilitate the use of applications with high or very high security requirements, also ensuring the availability, confidentiality and integrity of sensitive applications.
Of course, there is lots more to be improved in the EU-BR Cloud Computing landscape and once again, Europe and Brazil are at the forefront.
A Future promising cloud computing landscape between Europe and Brazil
EU-BR launched the 4th collaborative call in November 2016, where 5M Euro was allocated to fund projects related to cloud computing. The call focuses on the development of innovative technologies for next generation cloud infrastructures, tackling specific aspects to make transatlantic cloud development easier: standardisation, data interoperability and portability, security and trustworthy applications.
A consolidated, international cloud computing market and economy still needs to address the challenges that are known or even unknown today. The secret is to join forces with international players to reduce the  boundaries of this technology and unleash its incredible potential to transform our ever evolving societies.