Call For Papers: International Workshop on Assured Cloud Computing and QoS Aware Big Data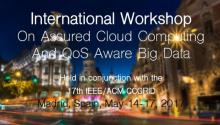 Submissions of position papers are solicited for the The International Workshop on Assured Cloud Computing and QoS Aware Big Data (WACC 2017) takes place 14-17 May 2017 in conjunction with the 17th IEEE/ACM CCGRID in Madrid.
The technical emphasis of WACC is the design, implementation, and evaluation of cloud services, data analytics tools, and security solutions to enable dependable Big Data applications. The Workshop combines invited talks, refereed papers, and panels. Accepted papers will appear in the workshop proceedings to be published by the IEEE and CCGrid.
The deadline for submitting a paper is: 25 January 2017
Topics of interest include: 
Assurance in clouds and their applications including time-critical cloud computations, streaming and the QoS of cloud services.
Assurances and early validation for Big Data, its algorithms, innovative data models, analytic solutions, and applications.
Experiences on the proactive and reactive allocation of cloud resources for Big Data applications.
Dependability challenges in cloud environments and novel techniques including dependable performance for Big Data applications.
Security and availability of the networks for assured cloud computing.
State of the art techniques to provide cloud resiliency, cloud resource management for Big Data, on-demand elasticity for Big Data, reliable and scalable cloud services.
Role of virtualization and multicore hardware in assuring security and reliability.
Integrity verification and attestation.
Metrics and risk models for assessing assurance of cloud environments.
Assured services, protocols and standards for clouds.
Secure data management and computation outsourcing.
Security and privacy aspects in cloud services, efficient data protection mechanisms for Big Data and data privacy at storage layer.
Usability of assurance provisions, interoperability, use cases.
Cost of assured clouds, energy, trade-offs, budget.
Further information on paper submission is available here: http://www.eubra-bigsea.eu/WACC_2017