Call for papers at workshop on Security and Dependability of Multi-Domain Infrastructures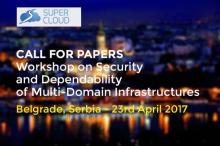 Submissions of papers are solicited for the Workshop on Security and Dependability of Multi-Domain Infrastructures that will take place on April 23, 2017, in Belgrade, Serbia, co-located with EuroSys 2017. The topics relate to system-level control challenges, abstractions, and mechanisms for secure and resilient computation and networking on multi-domain infrastructures. 
Workshop XDOM0 2017 description
The workshop focuses on new system architectures and mechanisms for security and availability of multi-domain infrastructures. The aim is to explore how system-level solutions could allow the user to regain control over such infrastructures and address the corresponding security and resilience challenges. Platforms that include hybrid clouds, and SDN-based virtualized networks require novel models, architectures, designs, security and resilience mechanisms that go beyond traditional virtualization and networking architectures.
Finding the right abstraction and system mechanisms can help enforce control at all (necessary) levels, both across domains and layers to enhance security and dependability of such infrastructures. Additionally, infrastructures of such complexity require holistic automation of security and dependability, posing new research problems on specification, enforcement, and management of policies and SLAs.
The XDOM0 workshop is sponsored by the H2020 SUPERCLOUD project
The organisation invites submissions focusing on advanced virtualization systems for secure and resilient multi-domain infrastructures, but not exclusively:
Open, minimal, or modular hypervisor architectures
Lightweight virtualization platforms
VM, container, or unikernel isolation and protection across heterogeneous clouds
Hardware security mechanisms in virtualized environments
Trusted execution and trustworthy infrastructures
Distributed secure computation in multi-clouds
Multi-cloud storage systems
Resilient database systems
Network virtualization for multi-clouds
Network embedding techniques
Network slicing for multi-domains
Resilient virtualized network functions
Secure and dependable software-defined computing, storage, or networking
Automation of security management for multi-clouds and virtualized networks
Specification, negotiation, enforcement, monitoring, auditing of security policies
Paper submission
Deadline for submitting a paper is February 28, 2017.