Cloud: An engine of change and a central ingredient for Innovation in Europe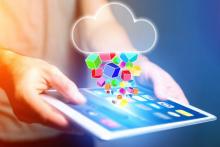 Cloud Services towards competitiveness
The European market for cloud computing is growing rapidly. Cloud computing is an important enabler for emerging technologies such as the Internet of Things, leading to the creation of better services, new business opportunities and greater productivity.
However, only 21% of European companies used cloud service (EUROSTAT) in 2016. Cloud Computing adoption varies greatly per industry & across European countries. This needs to change and indeed, it's widely believed that companies would use more cloud services if they had more security, simpler regulation, data & privacy protection, lower costs, services customised to their needs and the right to be forgotten in the digital world.
Through the Horizon 2020 programme and before that the 7th Framework Programme, The European Commission helps Europe to retain its leadership in Research and Innovation in cloud and software services. Thanks to EC funding, a plethora of projects are developing innovative and services to enable companies to become more and more competitive and to reach the goals of the Digital Single Market.
A service offer catalogue with the crème de la crème of cloud computing services
To promote these services, CloudWATCH2 has created an online service offer catalogue, which collects, promotes this impressive collection of open-source; interoperable services developed by top-class European research projects. By simply browsing our catalogue, users see which pain points the services address and the benefits for the user. Service offers can also be filtered based on the vertical markets they target and the cloud characteristics that they focus on. So if you are looking for services that are scalable or with advanced security then you can browse in our catalogue.
By doing this, CloudWATCH2 not only helps users identify new Open Soucre cloud services, but also plays a large part in helping projects to communicate their outputs to a broader audience and greater impact.
If you're a project and want to be part of our service catalogue then please contact us at info@cloudwatchhub.eu