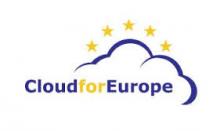 Event Date:
Thursday, 14 November, 2013 - 09:00
The Cloud for Europe conference, 14-15 November 2013, in Berlin at Fraunhofer Institute FOKUS, brings together enterprise and the public sector, offering exclusive insights into the European public sector cloud market, such as security and privacy issues, national cloud initiatives, the role of cloud computing in the digital service infrastructure, and cloud computing services and market places.
Keynote speakers at the conference on "Readiness for Cloud Computing in the European Public Sector" include Neelie Kroes (Vice-President of the European Commission), Toomas Hendrik Ilves (President of Estonia, Chair of European Cloud Partnership Steering Board), Hans-Peter Friedrich (Minister of the Interior of Germany),  Prof. Dr. Radu Popescu-Zeletin (Director of Fraunhofer Institute FOKUS). Panel speakers include Bernd Becker (President of Eurocloud) and Daniele Catteddu (Managing Director of Cloud Security Alliance – CSA).
CloudWATCH partners attending the conference include: Linda Strick, Fraunhofer FOKUS and Daniele Cattedu, Cloud Security Alliance.
Cloud for Europe comprises 22 partners from 10 European countries and is funded under the Seventh European Framework Programme for Research. In support of the European Cloud Partnership, Cloud for Europe aims to remove the obstacles for cloud adoption, to harmonise the requirements from different public organisations beyond national borders and to establish a digital single market for cloud computing in Europe.