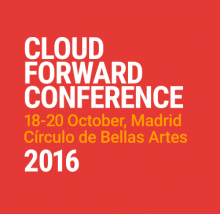 Event Date:
Tuesday, 18 October, 2016 - 09:30
Next Cloud Forward Conference will be held in Madrid from 18th to 20th October 2016.
It will provide the scientific community with a dedicated setting for presenting and discussing innovative technologies in the area of distributed computing as well as new technologies beyond CLOUDs. The conference will focus both on research and development efforts in the domain of CLOUDs, and in future technologies that exploit CLOUD computing as a utility.
The programme will encompass:
An opening plenary welcoming the event participants and setting the scene for the 3 day event;

International keynote speakers providing inspiring insights for the audience;

2 Parallel tracks:

Distributed and CLOUD computing;

Towards COMPLETE computing;

A closing plenary to present the event main outcomes and conclusions;

An event dedicated to SMEs.
A PART OF THIS SME EVENT WILL BE THE CLOUDWATCH2 WORKSHOP
The workshop intends to bring together selected EC funded projects that have already compiled a service offering as part of their intended legacy, and will end soon, with SMEs that are looking for innovations that are or soon will be ready to be brought to the market.
The goals are to help these projects pitch their idea, build a business model canvas session, develop a business case starting with the end user problem being addressed, advice on packaging the 'big idea' and enabling the cross pollination of ideas for business models between projects as a source of valuable feedback.
When: 18 October 2016, 16:30-18:30
Where: Room Valle Inclan, Cìrculo de Bellas Artes, Madrid, Spain