Cloud infrastructure market up 49%, intensifying global data center competition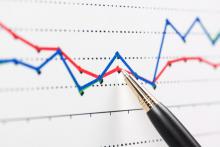 In Q4 2016, the worldwide cloud infrastructure services market showed an annual growth of 49%, reaching US$10.3 billion.
AWS continued to dominate with a 33.8% global market share, while its three nearest competitors – Microsoft, Google and IBM - together accounted for 30.8% of the market. The four leading service providers were followed by Alibaba and Oracle, which made up 2.4% and 1.7% of the total. Canalys forecast the market will hit US$55.8 billion in 2017, representing a 46% growth from the total value of US$38.1 billion in 2016.
Continuing demand is driving the adoption of cloud infrastructure services, which accelerated the cloud data center expansion among key service providers in Q4 2016. AWS launched 11 new availability zones globally in 2016, four of which were established in Canada and the UK in the same quarter.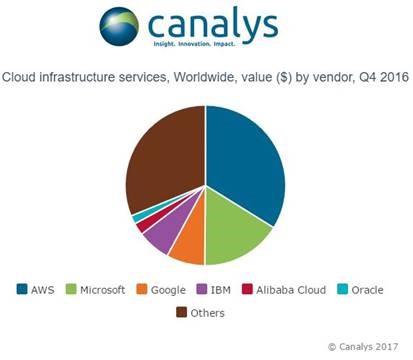 IBM also opened its new data center in the UK, bringing its total cloud data centers to 50 worldwide. Microsoft strengthened its cloud capacity in Western Europe, with new facilities in the UK and Germany. Google and Oracle set up their first infrastructure in Japan and China respectively, aiming at expanding their footprint in the Asia Pacific region.
Alibaba also unveiled the availability of its four new data centers in Australia, Japan, Germany and the United Arab Emirates, highlighting its ambition to drive the presence outside of China.
"Expanding data center locations across the world and into key economies has been critical in supporting multi-national customers in their digital transformation initiatives. These services are also providing digital platforms for businesses to access new markets and capitalize on new trade opportunities, such as Alibaba's Tmall Global"; said Daniel Liu, Canalys Research Analyst.
---
Source: CANALYS.