CloudLightning Conference @ NC4 2017 - 11 April, Dublin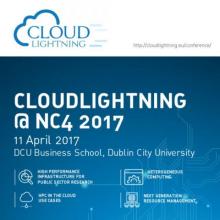 When & where: 11 April 2017 –DCU Business School, Dublin City University
Sectors covered: High Performance Infrastructure for Public Sector Research, Heterogeneous Computing, HPC in the Cloud, Next Generation Resource Management
The CloudLightning project is a €4m Horizon2020-funded research project to develop a self-organising, self-managing heterogeneous cloud.  Now in its third and final year, the project is hosting a conference in association with NC4 –The National Conference for Cloud Computing and Commerce.
The conference will encompass 4 sessions on:
High Performance Infrastructure for Public Sector Research
This will provide a forum for academic and scientific communities and ICT service providers to present on various aspects of digital and einfrastructures, such as: Current infrastructure support for academic / scientific communities; Application profiles and future applications; Future trajectory and trends; New hardware and developments; Trends within the community and changes over time;  Challenges and opportunities.
Heterogeneous Computing
This session will invite speakers to present their research and ideas on heterogeneous and high performance computing.  Topics will include: Theoretical and practical aspects of heterogeneous computing; Heterogeneity in HPC architectures; Heterogeneity in cloud architectures; Heterogeneity in network and communications fabric; Challenges and opportunities.
HPC in the Cloud
Speakers in this session will present their research and ideas on HPC applications that have successfully migrated to the cloud or could potentially be migrated to the cloud, including challenges faced and successful deployments. Topics will include: Methodologies for porting HPC applications to the cloud;  The cloud as a deployment mechanism for HPC applications; Use cases and applications; Challenges, risks and opportunities of HPC in the Cloud.
Next Generation Resource Management
In this session, speakers will present their research and ideas related to:  Resource management for heterogeneity; Resource management at scale; Energy efficiency; Resource provisioning - static and dynamic; Resource utilisation efficiency; Cost efficiencies; QoSand SLA compliance; Meeting service requests and workload requirements; Use cases and applications; Reducing over-provisioning.
The conference is free of charge, but as places are limited, registration is recommended to avoid disappointment
Enquiries and Further Information
A full conference brochure can be downloaded from http://cloudlightning.eu/?ddownload=3246/
Please direct further enquiries on the conference to http://cloudlightning.eu/conference/