CloudSocket - Business Process and IT Cloud Alignment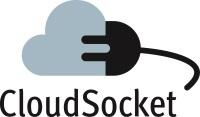 Focus Area
The CloudSocket project, funded under H2020, puts forth the idea of a "hybrid process" modelling framework applying well-known techniques for semantic, rule-based inference, meta modelling and knowledge management techniques to bridge the gap between business needs and the use and exploitation of Cloud resources and components.
The proposed framework implements a layered approach for managing the complexity of bridging the semantic distance from business process to workflow configuration of Business Proceses in the Cloud.
Market sector targets
The use case Business Incubator focuses on supporting the "Coaching and Finance" effort for more than 300 Start-ups with designing, analysing and simulating individual business plans, business processes, and also concerns a high degree of adaptability of Cloud Services for Start-ups, e.g. Customer Relationship Management, Order Management, Human Resources Management – both with respect to costs and functionality.
The Business Process Broker use case identifies typical business episodes. Within the ICT –Robotics cluster there are more than 700 enterprises that deal with different application domains as eHealth, Manufacturing, Photonics, Government, Security, e-Commerce, Retails, etc. but share a common set of business processes.
CloudSocket targets brokers like the business incubator or the process broker by providing tools, framework and knowledge to setup smart business and cloud alignment in form of a service.
Business models to take new services to market – including spin-outs and new services transferring publicly funded research to the private sector
The overall idea of the project CloudSocket can be formulated as "The Smart Cloud Business Process Broker", which comprises the discovery, orchestration, deployment and execution of services on the cloud. A learning cycle improves cloud individualization over time. This means that the level of integration has to be lifted from the technical to the business level. Currently the model-based approach is prominent for this integration. A detailed analysis of the business requirements based on the phases plan, model, manage and measure is common. The field of business informatics is a candidate to align business and IT. Business models such as business processes, business rules and workflows are aligned with IT models such as IT infrastructure and architecture.
The proposed concept extends the integration problem from the IT level to the business level.
CloudSocket aspires to realise this vision by: (1) supporting the extraction of business- and IT-experts' knowledge in a human and machine interpretable way and enable smart integration and translation between business and IT models, (2) provide smart and intelligent tools to align business requirements to Cloud offerings, (3) support the model-driven and knowledge supported resource allocation of Cloud-based workflows, (4) enabling intelligent execution of models within a smart and adaptive BPaaS middleware and (5) feedback the process monitoring results from Cloud level to business level thanks to semantic enrichment and conceptual analytics.
The focus of the project is characterized by:
(1) Knowledge-based Approach: For bridging the gap between business requests and Cloud offerings by abstracting from technical details and presenting Cloud service monitoring results at the business level.
(2) Business Process in the Cloud: For dealing with the whole business processes in the Cloud that is deployed by defining self-adaptive workflows in a multi-Cloud environment. Furthermore, the Service management and monitoring used for Quality of BP like billing is also performed on the business process level.
(3) Public services: CloudSocket aims to provide business solutions to the SME market, which can be offered in an open and interoperable way. A particular focus is on startups which do not want to invest in own IT infrastructure but concentrate on the development of their business. With the change and progress of their business, IT services have to be flexibly adapted.
CloudSocket comprises five phases, each phase supported by a corresponding building block: (a) (1) the design environment to describe business processes and business requestes, (b) the allocation environment creating deployable workflows, (c) the execution environment that execute the workflow as well as (d) the evaluation environment that lifts key performance indicators back to the business level.
Why cloud is a helping hand for SMEs?
Startups, small and medium enterprises are typically very much focused on their core business or core ideas. Hence, there are several business processes like customer relationship and campaigning, administrative issues on registration, part of IT services as well as part of after sales support that are necessary for the business success, but can only insufficiently be handled by those organisations.
Business Processes in the Cloud enables brokers that may act as a public or private organisation to offer the cloud-based execution of those business processes the startups, founders and SMEs wants to delegate to reasonable price.
Links and references