CloudWATCH2 Hub, taking SMEs to the Cloud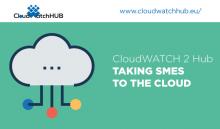 SMEs outnumber large companies by a wide margin and employ many more people in Europe. SMEs are also responsible for driving innovation and competition in many economic sectors.  An increasing number of SMEs today use cloud-based services to get their products and applications to market.
Cloud computing provides shared computer processing resources and data to computers and other devices on demand. It offers a wide range of advantages, particularly for SMEs, such as high computing power, cheap cost of services, increased agility, flexibility and efficiency, as well as making it easier to scale computing requirements to the businesses requirements.
However, there have still been concerns among small businesses, who may find cloud computing difficult to understand, given its variety and constant development.
CloudWATCH2 has developed a number of user-friendly, objective and free web-based tools for SMEs, gathered around the main problem areas such as Procurement, Legal, Security and Cost issues.  These include User stories, European Cloudscout, Managing Risk, SLA Aid, Legal Services, and the Cloud standards guide.
The User Stories section provides a number of best practice case studies of real SMEs who have obtained a competitive advantage from the uptake of cloud based services, often rivalling, or even surpassing, their larger counterparts.
The European Cloudscout is an interactive tool on security issues.  In just 10 to 15 minutes SME managers complete a questionnaire which seeks to address their specific business situation.  The result is a downloadable report providing tailored information on how to use cloud computing in a secure manner and how to improve cloud security in the specific instance.
Legal services provide information for small businesses already planning to use a cloud service seeking a clearer grasp of the legal Ts and Cs, in particular with the new General Data Protection Regulation coming into force in 2018.  This includes FAQs on legal terms in cloud service contracts, a guide on how to protect personal data, legal tips, contractual clauses.
If you're having difficulties with cloud Service Level Agreement (SLA) then try out the SLA-Aid.Developed by the EC-funded SLA-Ready project (www.sla-ready.eu), SLA Aid is an online tool in three languages (English, Italian and Portuguese) designed to aid businesses navigate their way through cloud SLAs.  It provides a questionnaire to complete, based on the an SLA reference model, which guides users through the key elements of an SLA on which they require information.  At the end of the process, users are provided with a downloadable, personalised report giving tips on each element identified.
Finally, the Cloud standards guide provides information on control, interoperability and portability, which are central to avoiding vendor lock-in.
CloudWATCH2 is funded the European Commission under the Horizon 2020 Programme, as a follow-on to the successful CloudWATCH Project launched in 2015, and will run until September 2017.   The next step for CloudWATCH2 will be the Concertation Meeting, a dynamic and engaging events co-located with the Net Futures Conference 2017, targeted to all active projects that are part of Unit E2 Software Services and Cloud.