Concertation Meeting 2017 - All presentations free to download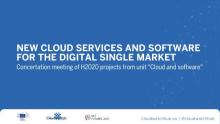 The fifth CloudWATCH Concertation meeting looked at future directions for software services and cloud in Europe, highlighting new opportunities for novel research and innovation to ensure Europe remains a world leader. There is a need for projects to push towards creating products and defining services with a mind to moving to market.
This Concertation meeting is dynamic and engaging events co-located with the Net Futures Conference 2017.
This unique event was, also, focusing on the importance of trust and interoperability in the services that projects are developing through break-outs supported by the Clusters of European Projects on Cloud; and providing best practices and strategies on taking these to market.
The meeting was an excellent networking opportunity for all Unit E2 projects. All 54 active projects was represented with participation also of Pierre Chastanet, Acting Head of Unit, Cloud and Software, with a overview of EC direction in next years.
During the workshop all the speakers have identified the direction market players need to take to make cloud a trusted and resilient commodity that can enable innovation in Europe.
All the speaker's presentation are available on the event page here.
Feel free to download them!