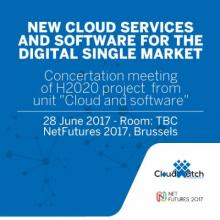 Event Date:
Wednesday, 28 June, 2017 - 09:00
Where: The Egg - Barastraat 175 Rue Bara, Bruxelles
---
CloudWATCH2 is pleased to invite all H2020 projects in from unit "Cloud and Software" to Concertation Meeting «New cloud services and software for the Digital Single Market», hosted by Net Futures Conference 2017 that will held in Brussels on 28 June 2017.
With trusted and interoperable services essential for a thriving Digital Single Market, projects need a clear understanding of the cloud market and the supply chains within it. This workshop identifies the direction market players need to take to make cloud a trusted and resilient commodity that can enable innovation in Europe.
CloudWATCH2 has transformed Concertation meetings into dynamic and engaging events co-located with the Net Futures Conference and Exhibition.
The meeting is an excellent networking opportunity for all Unit E2 projects. All active projects will be represented with participation also from the EC. This unique event be focusing on the importance of trust and interoperability in the services that projects are developing through break-outs supported by the Clusters of European Projects on Cloud; and providing best practices and strategies on taking these to market.
With the EC clusters meeting during the Concertation meeting and a strong presence from the EC, all projects in Unit E2 "Cloud and Software" are expected to be represented at this meeting.