Critical success factors to overcome technical challenges for cloud expansion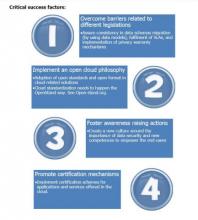 Businesses, public entities and EU citizens are eager to go-to-the-cloud, and, at this stage, ICT providers and other Cloud stakeholders have the means to fulfil the demand needs, but t
here are still several barriers that discourage consumers, business developers and entrepreneurs, including software developers, to start using Cloud services.
The primary purpose of this Cloud Catalyst report is to summarize the main conclusions about the technical challenges of using Cloud, and produce a step-by-step guide for SMEs and startups developing cloud solutions. Therefore, it is important to highlight that this report is primarily addressing the supply side perspective of the cloud market. It provides the reader with key information about the main technical challenges and how to overcome these barriers.
The report combines expert consultancy and desk research approaches. It started with stakeholder analysis, based on the expertise of UCM research group, paying particular attention to technical requirements and issues. In parallel, reference documents about cloud computing were taken into consideration, most importantly the reports of EC Cloud Computing Expert Group on Research and the NIST Cloud Computing Synopsis and Recommendations.
Inside the report:  MAJOR CLOUD CHALLENGES AND CRITICAL SUCCESS FACTORS and more.