CyberWISER Light: protecting small firms in the digital economy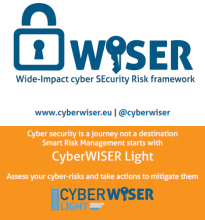 Digital technology is helping more and more businesses reach new customers, and increase productivity while reducing operating costs. But with the advantages comes a significant downside: opportunities for criminals to commit increasingly sophisticated and highly lucrative crime over the Internet. No company, however big or small, is immune.
Cyber attacks can not only cause direct economic losses - the average cost of a cyber attack for small businesses is at least €3,000 – but also put intellectual property at risk, and may ultimately affect brand and reputation. Small businesses also need to consider the time and cost of managing disruptions effectively so they can quickly get back online.
But how much does a cyber security strategy cost a small business?
What if it doesn't have sophisticated IT skills?
Fortunately, new tools are available to help SMEs improve their cyber risk management and detect vulnerabilities in their IT system without having to invest lots of time and resources.
CyberWISER Light is part of the suite of tools offered via the CloudWATCH hub FREE of charge.
CyberWISER Light is designed to improve the cyber security posture of any business, however small. Small businesses can use the tool in two different ways:
1) Get a free, company-specific cyber risk assessment, with advice on how to improve its cyber security posture based on a quick and simple questionnaire. This way any company can define cyber security actions based on its specific business risks.
2) Identify weaknesses in its IT system by taking Vulnerability tests whenever they like. Users get an estimate of the potential risk impact so they can focus on vulnerabilities that pose a significant risk.
The two step process can be repeated anytime, anywhere, so companies can get fresh data about their vulnerabilities, which is key to achieving maximum protection, as risks evolve over time and across geographies.
WISER Project: Wide-Impact cyber SEcurity Risk framework
CyberWISER Light is the first tool emerging from the WISER project, which will deliver in early 2017 a cyber-risk management frame work in terms of risk platform as a service (RPaaS) consisting of three modes of operation that collectively represent the WISER portfolio: CyberWISER Light, CyberWISER Essential, and CyberWISER Plus.