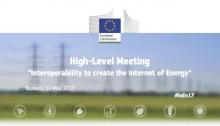 Event Date:
Thursday, 11 May, 2017 - 09:30
On Thursday, 11 May 2017, the European Commission will organise a High-Level Meeting to discuss how the interoperability of communication and data exchange can ensure Europe's benefit from the new opportunities that the Internet of Things will create in energy transition. Co-organised by DG CONNECT and DG ENERGY, the meeting will focus on the following aspects:
What public authorities can do to ensure interoperability

How interoperability can create the smart home of the future to  the benefit of consumers

The requirement of  interoperability for an efficient smart grid that fosters innovative energy services.
Meeting Objective
Withenergy production increasingly being performed locally and information and
communication technology  ever more present in homes, the integration of renewable energy sources and promotion of energy efficiency in the electricity system should provide benefits in terms of  smarter homes, buildings and appliances. Preparing for modern, flexible and robust energy systems, the gathering  will address the opportunities offered by linking smart home and energy technologies, considering the number of  initiatives that are ongoing tocontribute to building an Internet of Energy that promotes sustainability, benefits consumers and creates new business opportunities.
The meeting  will be opened by Mr Roberto Viola, Director-General for Communications Networks, Content and Technology (DG CONNECT), and Mr Dominique Ristori, Director-General for Energy (DG ENERGY).
How to participate
Participation  is by invitation only. However, if you are an expert in the field, or do business in the sector and have not been invited, then please contact the organisers as a few places are still available. The meeting will also be web-streamed and recorded.