Discover the findings of the EU study of the impact of the Software and Software-Based Services (SSBS) Industry on European Competitiveness and Innovation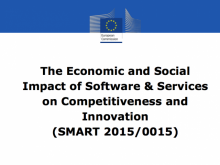 The European Commission have just published the Final Report of findings of the study carried out on its behalf by Pierre Audoin Consultants (PAC) GmbH, Le CXP, and the Fraunhofer-Institute for Systems and Innovation Research (ISI), to analyse the impact of European software and the software-based SSBS industry on Europe's growth and competitiveness. The Report, "The Economic and Social Impact of Software and Services on Competitiveness and Innovation" is a revision and update of "Economic and Social Impact of Software & Software-Based Services" (issued in 2009), dictated by the global financial crisis and new technological and market trends. 
Current and future expected figures for the SSBS market (EU28 as a whole, as well as the key countries France, Germany, UK and Italy) and the major players (top 10 in the EU28 and worldwide) are presented, as well as the key drivers, such as big data, digital transformation, security and mobility.
The report also explains the reasons for the market developments. Market data for the EU28 region with markets in the US (mature market) and India (emerging market) are also compared to analyse differences in market shares and trends. Ultimately, the study derives policy recommendations to remove barriers and foster the development of the European software industry.
Finally, the report shows that several technological trends from mobility and data analytics to digital transformation and social collaboration along with emerging software development practices such as DevOps and Open Source Software will radically change the way we produce and use software.
Therefore, almost any industry sector and not just SSBS will be influenced by this shift, and interested in the findings of the Report which can be downloaded here