ECIM – European Cloud Marketplace for Intelligent Mobility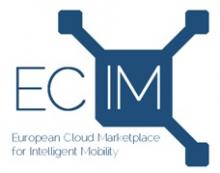 Focus: ECIM aims to help three key audiences - service creators, city managers and service users – to benefit from the ability of cloud computing to make transportation and other city services more innovative, cost effective and accessible.
ECIM will:
Allow cities and businesses to easily migrate existing services to the cloud
Open cloud-based services to innovators for use as the basis for new applications and services
Publish these services in a catalogue (Marketplace), which will enable cities across Europe to easily access, combine and adopt them
Funding: European Commission, DG Connect, Software & Services, Cloud. 7th Framework Programme. FP7 Cloud of Public Services and Smart Cities
Coordinator: iMinds, Belgium
LinkedIN: http://www.linkedin.com/groups/ECIM-European-Cloud-Marketplace-Intellige...