ECIM project successfully pilots new products and services for sustainable mobility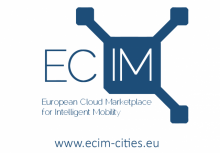 Europe's population density is concentrated in cities, small and large. The expected increases in the numbers of citizens living in urban spaces has put sustainable mobility high on the agenda of every public decision maker.
This is now much easier with ECIM. A 30-month European project that has focused on facilitating the migration of cloud-based services for mobility, new service creation by opening-up cloud-based services to innovators; and the adoption of cross-border cloud-based services in Europe and beyond.
The rollout of new products and services improves the mobility of citizens in the cities through positive impact on traffic, the environment and quality of life in general.
•   ECIM Smart Mobility Marketplace, is a flexible, cloud-based solution for public and private sector actors who seek or provide web services to address mobility related needs of their cities. The Marketplace is a unique environment where service providers, data providers and developers come together and engage in co-design and co-creation of mobility applications for citizens.
•   SmartMobility.io simplifies integration and interoperability of different mobility related services, such as parking and payment, though Common RESTful APIs. ECIM Common APIs provide a framework for harmonising custom API formats used by different mobility service providers, thus allowing developers to easily connect to the services and create killer apps for cities and citizens.
•   ECIM mobility apps have been co-designed and tested using the Living Lab approach in three European cities: Brussels, Issy-les-Moulineaux and Barcelona. A proof-of-concept has been runnin in Birmingham. These multimodal apps combine a range of different mobility services, from parking to payment, to public transport and bike sharing. The apps in Brussels and Issy-les-Moulineaux include a single-sign-on functionality, which allows users to access and pay for parking services offered by different providers – BePark, Mobile-for and PayByPhone – using a single user account.
ECIM concluded its project lifecycle in June 2016 with results developed by 14 partners in 5 European countries exceeding all expectations. To ensure commercialisation, partners within the consortium have agreed to establish a commercial organisation with smart mobility as its main business line having started to define a business model during the project's last workshop.
Towards the end of its life cycle ECIM had assumed the form of a set of services really able to address a number of important mobility requirements of a contemporary city.