Enabling Innovation, Research and Growth in ICT for the Digital Single Market – Register for the CloudWATCH Europe summit 20/09 Amsterdam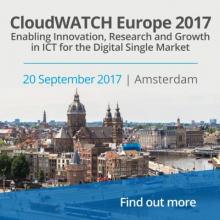 CloudWATCH2 is pleased to invite you at CloudWATCH Europe 2017 - Enabling Innovation, Research and Growth in ICT for the Digital Single Market that be held at 20 September 2017 in Amsterdam.
CloudWATCH Europe 2017 has been specifically conceived for decision makers in Europe to come together to understand how cloud computing is an enabler of innovation, growth and jobs in the Digital Single Market.
Registration is free but places limited for this exclusive 1-day Summit where participants can hear from industry leaders and policy experts on how the cloud computing market will be shaped in Europe over the next 3 years. In addition, deep-dive break-out sessions will give the opportunity for all to have their say on this topic.
Why attend?
The event examines how the cloud landscape evolved over the last few years and what will happen during next years. It will give you practical tips on standard and interoperability and security and tips on how you can set up a sound and effective corporate Data Protection Compliance Programme. You will leave the event with innovative ideas and best practice solutions that you can implement straight away.
This Summit will be led by some of the most influent European experts in cloud computing, who will share their expertise and stimulate discussions among participants during different break-out sessions, such as Frank Bennet from Cloud Industry Forum and Daniele Catteddu of CSA.
Let's discover our speakers and panellists.
Three tracks for different needs
We will also have three informative and highly focussed tracks during the day which focus on three key elements that can help to create greater trust in the Digital Single Market:
TRACK 1 - MARKET: understanding the economic, financial and market dynamics shaping the cloud computing market in Europe, and globally, over the next 5 years.
TRACK 2 - TECHNICAL: Understanding standardisation, interoperability, security and data protection as it pertains to business, as well as next generations R&D outputs.
TRACK 3 - LEGAL: Understanding GDPR, contracts, risk assessment and compliance tools for businesses, government and academia who seek to procure cloud services.
The CloudWATCH Summit is an excellent opportunity to network with senior stakeholders and decision makers across a range of organisations and really come away with practical input on future policy directions that Europe must take and practical advice on legal and security issues for your own organisation.
The CloudWatch Europe summit aims to deliver answers to questions you can't find online on adopting Cloud Services for your business.
Meet the experts shaping the cloud market of tomorrow, and have your say today.