EUBrasilCLoudFORUM launch the first beta version of its marketplace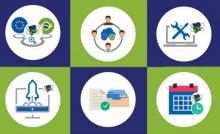 EUBrasilCLoudFORUM Marketplace in now online, a catalogue of relevant assets to support transatlantic collaboration between industry professionals, academia and policy makers across Europe and Brazil.
The EUBrasilCloudFORUM Coordination and Support Action funded by the European Commission and the Brazilian Ministry of Science, Technology and Communication aims at establishing an organisational cooperation model that enables the EU and Brazil to formulate and develop a common strategy and approach for Research & Innovation in Cloud Computing in line with the priorities of each region.
The aim of the Marketplace is to provide an effective platform that would meet the needs of stakeholders, by promoting European and Brazilian excellence in the industry and research on how cloud-based services are creating innovation and improving the competitiveness of the sector in Europe and Brazil.
A marketplace for different stakeholders
The marketplace has been structured into six different sections:
• EU-BR Collaborative projects: Cooperation between Brazil and the European Union started in the early 90's and after some partnerships during the following years, the coordinated calls in ICT between Brazil and EU started in 2010, with 3 coordinated calls that have been launched so far (2010, 2012 and 2015), and with a 4th issued in 2016. Detailed factsheets and contact information about the projects funded so far are collected there.
• Stakeholders: Who is behind EU-Brazil collaborative research in ICT? They can be met in this section.
• Documents & Reports: with insights on how both regions are working for the development of a joint ICT market.
• EUBrasilCloudFORUM events: organized in Europe and in Brazil by EUBrasilCloudFORUM project, such as the Cloudscape Brazil series and the collateral workshops to the EU-BR policy dialogues in ICT.
Coming soon you can find on the marketplace also:
• Brazilian Incubators: the recent announcement of the 4th EU-Brazil Coordinated Call on Information Technology and Communication, brought about the possibility for Brazilian start-ups to join project consortia as full-members for the first time (and therefore receive funding). EUBrasilCloudFORUM is building a database with Brazilian start-ups allowed to obtain funds for future EU-BR ICT calls.
• Technological Assets: Services, tools and software components resulting from past EU-Brazil collaborative research projects will be accessible soon in this area.
The marketplace aims to become an hub where public and private stakeholders interested in promoting collaborative initiatives in cloud computing can find relevant information from past and current research initiatives, get in touch with key stakeholders ,and access tangible technological assets and knowledge produced as a result of cross-regional activities.