KPMG Elevating business in the cloud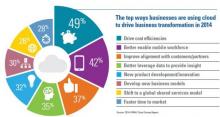 Cloud continues to drive disruption in the business world across the globe - KPMG's 2014 Cloud Survey.  In fact, a recent global KPMG survey of nearly 800 technology industry leaders ranked cloud as the technology that will have the greatest impact in driving business transformation for enterprises.
Essentially, a new era is unfolding, positioning cloud as a key delivery model for the evolution of IT in business innovation.
More and more organizations are turning to cloud to transform their business. Find out more about the growing impact of cloud technology today with KPMG's 2014 Cloud Survey report, which reflects the perspoectives of more than 500 global executives.
    Source: 2014 Cloud Survey Report KPMG