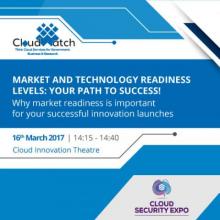 Event Date:
Thursday, 16 March, 2017 - 14:15
CloudWATCH2 @ Cloud Security Expo 2017, ExCeL, London
Room: Cloud Innovations Theatre 
SMEs are, overall, the driving motor for economic growth and job security in Europe. With the EU single market now being extended to the Digital Single Market, this will become even more prevalent as digital goods and services are particularly easy to provide and sell in the entire EU. CloudWATCH2 will aim to start a focused, long lasting conversation with SMBs beyond the project's lifetime as a venue to transfer EU project results to businesses that are not or remotely involved in the EU project landscape. Kicking off this conversation outlet, CloudWATCH will engage with SMBs in an open topic workshop, working with them on identifying their actual requirements and begin matching these with EU project results, such as from those participating in the EC cloud clusters activity.
In practice, the workshop intends to bring together selected EC funded projects that have already compiled a service offering as part of their intended legacy, and will end soon, with SMEs that are looking for innovations that are or soon will be ready to be brought to the market. University of Oxford's Oxford e-Research Centre and Strategic Blue as two partners from the CloudWATCH2 consortium will work together with the select group of projects for analysing their product and service portfolio for market readiness, and map these onto similar projects in a larger cloud landscape for signposting cloud standards profile development, supporting projects on the technical level. Strategic Blue will support these projects in their analysis and their solutions' market potential and, where attractive, to undertake the first steps in capitalising on these assets.
The goals are to help these projects pitch their idea, build a business model canvas session, develop a business case starting with the end user problem being addressed, advice on packaging the 'big idea' and enabling the cross pollination of ideas for business models between projects as a source of valuable feedback. Feedback will be provided for the following things:
Pitching & Communication

Commercial Potential

Business Models

Go To Market Strategy

Funding Strategies

Online Media

Tools & Planning
The main expected benefits for the projects from such a session are:
• Sustainability – The project must persist beyond the life of grant funding and be validated within the open market.
• Concertation – Projects may be targeting the same end user groups and can reduce time-to-market through cooperation.
• Execution – By adopting our approach to "Mission 100" and finding 100 paying customers, they are highly investable.
Introduction to Market & Technology Readiness
The Market & Technology Readiness Level ("MTRL") framework aims to provide decision makers with a holistic view of a project's maturity in a simple way - with a single score. It offers decision makers a faster way to assess, measure and support technology projects.
To find more info about MTRL please visit the dedicated page.
Here you can browse the workshop presentation