Open-DAI: Opening Data Architectures and Infrastructures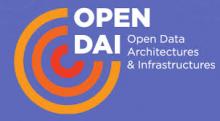 Focus: The project aims to make data and platforms available for digital public services on cloud computing infrastructures.
Coordinator:
Partnership: Ajuntament de Lleida; BDigital, Barcelona, Spain; CSI Piemonte, Italy; IMI Institut Municipal d'Informatica de Barcelona, Spain; Municipality of Karlshamn, Blekinge, Sweden; NetPort Science Park, Karlshamn, Sweden; Ordu Municipality, Turkey; Piedmont Region, Italy; Politecnico di Torino, Italy; SAMPAS IT and Communication Systems, Turkey.
 
Impact: Innovation, business opportunities and digital services are the three goals that drive Open-DAI. All Consortium partners work together:
to open up a large part of the Public Administrations' (PAs') databases to a wide audience of potential users through an open data hub in order to correlate data and to implement new digital public services;
to evolve the PAs' information systems towards an open model and Service Oriented Architecture (SOA) in order to overhaul the monolithic and closed models and to facilitate software maintenance of existing silos;
to host the PA's services into a scalable cloud infrastructure in order to meet the evolving needs.
 
Position Paper: http://www.cloudwatchhub.eu/concertation-position-papers/open-dai-opening-data-architectures-and-infrastructures
Website: http://open-dai.eu/