School as a service platform - EDUCLOUD NVIDIA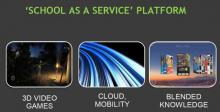 Streaming video and music to TVs, PCs and tablets using cloud services like Netflix, YouTube, Pandora and Spotify has become the predominant way to enjoy content for connected devices. The convenience of large cloud-managed libraries of content with stream-anywhere capability is impossible to resist.
E-education is a fast growing segment, students will become future users of E-Learning training programs .
The Cloud enables easy access to educational content Anytime, Anywhere and on Any device.