Why small businesses are becoming more cloud conscious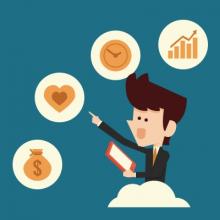 The atmosphere in the wide world of small business is getting "cloudy," but that's just fine because this cloud is actually a silver lining that delivers bright and good tidings.
Cloud is a series of application servers in remote locations accessible on the internet that enables dissemination of communications, computations and data storage. It's not only a cost cutter but a productivity booster for small and big companies alike. But its impact on small businesses is more meaningful. Cloud actually reduces, if not eliminates, the need for a company to own expensive hardware. And with most enterprises now using cloud, they are gaining access to more applications, such as the weather, radio, and e-mail, according to analysts.
Matt Rosen, CEO of Fusion Telecommunications (FSNN), which provides cloud services to about 12,000 small businesses through its 12 networks, says that small-to medium-size enterprises are attracted to cloud service providers because of significant cost savings. "Median operating cost savings for our clients are in excess of 30%," he says.
And with the "workforce becoming more distributed and mobile, the legacy of on-premises desktop PCs is dying," asserts Vlad Shmunis, chairman and CEO of RingCentral, a major provider of cloud services with more than 300,000 small-business customers."The communication end-points are changing," he says, "with the bulky desktop PCs being eliminated in favor of smaller and cheaper notebooks and tablets." At the same time, the desk phones are being supplemented with mobile smartphones, he adds.
"Cloud communication solutions can deliver capabilities to meet the rapidly changing communications needs of enterprises," argues Shmunis. That has helped RingCentral become one of the fastest growing cloud communications providers for small businesses, he says. "We are disrupting a massive global market opportunity that analysts estimate has a potential value of about $75 billion," says Shmunis. Apple's  iPad, which has attracted millions of users in just a few years, costs much less than PCs but they (iPads) perform essentially the same functions based on cloud. The traditional personal computers (PCs) have their computing and storage capabilities built in their hardware.
Traditionally, businesses of all sizes have on-site hardware, licensed software and IT staff for data processing, data storage and other services. Today Microsoft, Amazon and others provide huge computing capacity on the cloud that vastly reduces the need for companies to own computer hardware. Oracle  is making its software available on the cloud. A new breed of companies offer Software as a Service (SaaS) to businesses that are hosted in cloud, notes Shmunis. The cost benefit to small businesses of using SaaS is significant, he adds.
Shmunis says that one area that small businesses are embracing at a rapid rate is "unified communications" (UC), which provides a host of services, including audio, web and video conferencing, landline, mobile and Internet convergence, as well as data sharing, integrated voice, text, email, and fax messaging. According to industry sources, a multi-location business with 55 employees would require $60,000 in capital expenditure to install traditional on-site hardware for communications. Analysts figure that cloud-based UC would require less than $10,000. Using UC would not require office space to install hardware, and carrier fees such as local and long distance charges, would be much less.
Fusion CEO Rosen figures the median operating cost savings for businesses are in excess of 30%. And he notes that UC providers operate at healthy operating margins of 45-70% rate. So for Cloud service providers, it's not just about cost savings and increased productivity. UC companies provide technological upgrades, and work flexibility for employees, says Rosen.
To read the full story, please visit Thoughts on cloud.
Image courtesy of bplanet at FreeDigitalPhotos.net