2015 marks a transition for enterprise cloud computing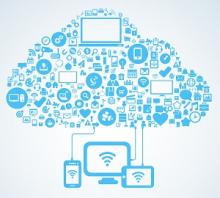 In a podcast for TechTarget, William Toll, vice president of ProfitBricks, observes that even in 2015, 85% of applications still reside on-premises in the world's 8.6 million data centers. In the cloud's early days, moving an application to the cloud meant adapting it, a huge challenge for corporations with thousands of applications. Many simply could not run in a first-generation cloud.
In 2015, Toll notes that worries about cloud Infrastructure as a Service security are beginning to lessen. C-level executives who once saw the cloud only as a way to save money now recognize it as a business expansion platform and are moving quickly to implement new business processes to capitalize on the possibilities. In 2014, Toll says that IT budgets started coming back after the recession of 2008-09 and that executives can now work with IT regarding the shift from capital expenditure to operational expenditure that comes with cloud computing. Many companies see their path forward as being relevant through technology, whether it is new offerings or Internet of Things innovations.
Toll also discusses the shortage of people with cloud expertise, how it affects corporations and how to meet this challenge. First generation cloud platforms are complicated to use. Second-generation clouds are more flexible in their architecture and in their ability to replicate what IT has on-premises -- even private IP addresses that reflect on-premises.
In the next year, Toll says mid-size companies will start to migrate more applications to the cloud. ProfitBricks offers a visual data center management tool, the Data Center Designer, that will feel familiar to users of Visio. It enables designers to drag and drop servers and storage, and visualize data center rules.
To listen to the podcast, please visit TechGadget.