4th Cloud Interoperability/Cloud Plugfest Workshop - London - Dec 2014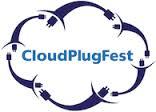 The fourth workshop continued the successful collaboration with the CloudPlugfest initiative in trying a new format in attracting community interest and commitment. As a venue, the UCC 2014 event in London provided the perfect audience, and the workshop was well attended.
The structure of the workshop targeted consumers of cloud software, and invited technology providers and EC-funded projects to showcase and demonstrate their software, focusing on the standards-based interoperability aspect of Cloud software. CloudWatch and CloudPlugfest partnered with the PrimeurMagazine who provide media coverage for the event.
The entire, packed event schedule is available at here, and the videos capturing the demonstrations and featured interviews are collated in Primeur Magazine's YouTube channel.