Irish SME uses the cloud to help humanitarian agency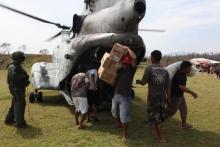 Flash Report
Spanish Point Technologies Ltd is an Irish-based innovative software company providing business systems that remove complexity, increase productivity and connect users to critical business information.
One of its clients, Goal, is Ireland's leading development and humanitarian agency, a NGO. It delivers humanitarian services to refugees from the Syrian conflict, hospital services for Ebola victims in West Africa and development programs for families and communities in countries from Honduras to Zimbabwe.
The team of .net developers and SQL specialists at Spanish Point helped the NGO overcome difficulties in their systems and smoothen the way to more efficient services for the thousands of people living in harsh conditions and depending on Goal for relief in their day-to-day lives.
Spanish Point has embraced the cloud as a part of its natural progression. Its team felt very passionately about being at the forefront of any cloud developments as they recognized its importance and future success. They are also the proud developers of LookupPoint, a technology that displays line of business information directly in Microsoft Office. 
Spanish Point will be celebrating its 10th anniversary this year and is already looking to expand its solutions further into the cloud and on mobile platforms. They are currently working with Office 365 and Azure to design time-saving business applications such as the customer order portal of Kingspan, a global leader in low carbon building solutions. 
Back in 2005, CEO Donal Cullen saw an opportunity to set up the company using 
Microsoft's investments in technologies for medium and large companies and commitment to supporting developers.
Source: Microsoft Europe, 2015
Disclaimer: The purpose of this article is show how cloud computing is enabling businesses innovate in the marketplace, and also help potential cloud users identify similar requirements. Any reference to a specific cloud service customer or cloud service provider does not constitute an endorsement.