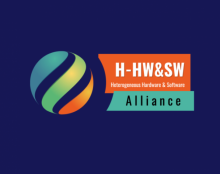 Event Date:
Monday, 22 January, 2018 - 10:00
When: Monday, Jan. 22, 10:00 - 13:00
Where: Room 11 @ Manchester Central Convention Center
TANGO project launched in 2016 the Heterogeneity Alliance initiative after identifying the opportunity to exploit a better approach to try to influence and develop the Heterogeneity Market. 
TANGO team identified that, alongside the #TANGOtoolbox, there were other tools and technologies that are also trying to deal and to simplify the use of heterogeneous hardware. That there were others out there creating valuable tools and technologies that could benefit in other parts of the develompent life-cycle, or even provide capabilities that are not provided by the #TANGOtoolbox at this point.
 
In this context, the team behind TANGO project identified the opportunity to leverage the work and research that others are doing right now in the market, and also in the research and academic arena, with the vision to avoid creating yet more heterogeneity in the tools and approaches that will lead this market in the upcoming years.
Therefore, instead of just fighting all from their own perspective, with their own tools, TANGO team wanted to encourage collaboration and proposed to create something together, something that will also create a link between research and the market and take advantage of potential synergies. To drive this, TANGO team initiated the Heterogeneous Hardware & Software Alliance (H-HW&SW Alliance), or the Heterogeneity Alliance.
The Alliance is currently backed up by TANGO, SHARCS, HERCULES, P-Socrates, EcoScale, and Rapid, all european research projects, and the organizations behind these projects. The Alliance has received the interest from other organizations and is in the process of expanding its scope and memberes. You can read more about the Alliance in this FAQ document.
Tango team is preparing a keynote and a sesion called "Heterogeneity Alliance: Better Together" in which we will present the Alliance, its vision and the work now being done by the Technical Working Groups, that are defining a common reference architecture to simplify how we address heterogeneity. The Alliance is also creating a catalogue of aligned open source tools and technologies.
Also, TANGO will have a workshop sesion in which current members of the Alliance will participate and share their visions and tools.