Big, open and properly protected data?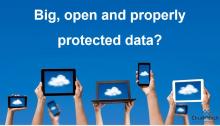 Big data keeps making the headlines. Open data is high on governments' agenda. This CloudWATCH webinar will hear contributors to the research paper ''Big & Open Data in Europe: A growth engine or a missed opportunity?" debating the impact on the economic potential of various parts of Europe – North, South and East. CNIL, France's Data Protection Authority, will then describe the main challenges of privacy from a European perspective.
The stakes are high indeed to make sure that legitimate concerns for privacy will not hamper a free flow of data and hold back the development of industry, thus depriving citizens and consumers of the benefits of the digital era.
Speakers:
Dejan Cvetkovic, Regional Technology Officer, Central and East Europe at Microsoft

Mariusz Jarzebowski, Technology Policy Advisor, demosEUROPA

Ratko Mutavdzic, Founder and Experience Architect at PROJEKTURA

Dr. Gwendal Le Grand, Director of technology and innovation at CNIL, the French Data Protection Authority
Moderator:
Patrice Chazerand, Director, DIGITALEUROPE
Report: Big & Open Data in Europe: A growth engine or a missed opportunity? bigopendata.eu