Cloud Computing Code of Practice - New Zealand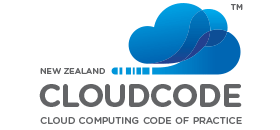 Name of the programme: Cloud Computing Code of Practice
Governing of the standard: Institute of IT Professionals (IITP) New Zealand
Accreditation Body/Bodies: Institute of IT Professionals (IITP) New Zealand
Scope:
Ownership of Information
Security
Data location
Data access and use
Backup and maintenance
Geographical Diversity
SLA and Support
Data Transportability
Business Continuity
Ownership of Application
Customer Engagement
Data Breaches
Law Enforcement
Region Specific Issues
Cloud-relevance: It refers to all types of cloud services and models.
Type of certifiable organisation: Any providers operating in New Zealand and any New Zealand provider that operates outside the country.
Type of trust models applicable: Benchmark-test
Is the certification proprietary or open: Open
Programme, status (operational, in development): Operational
The CloudCode is a voluntary disclosure-based Code of Practice that has been developed to improve the standard of services being provided by Cloud Service Providers.  It also provides Cloud Service Consumers with the ability to view and compare disclosure statements from Cloud Service Providers and make informed choices when considering a Cloud Service Provider.
Cloud Code allows providers to expose specific details about the way they treat their clients' data and applications. It gives users the opportunity to have a closer look at the in-house operations that take place within the provider's infrastructure.
Providers that wish to be certified, need to disclose a series of information that are related to certain internal operations that are of interest for potential customers. That information is then stored in centralized database where potential users of the providers can consult in order to assess whether the providers can meet their security and operation requirements. This providers a common framework that can help users evaluate the applicability and efficiency of providers for their systems allowing them to know beforehand how their data will be treated.