Cloud Interoperability Plugfest Series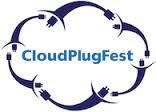 The Cloud Interoperability Plugfest series (or "Cloud Plugfests" for short) originated out of community-based interoperability efforts by a variety of organizations in 2011 and was further developed into a cooperative venue to exchange information and to encourage interoperability on implementations of relevant cloud standards. It has since expanded to include sponsorships and support at different events by several important standards organizations and software development projects, including the Cloud Standards Customer Council, CloudWATCH, DMTF, ETSI, OASIS, the OCEAN Project, OGF, OW2 and SNIA. A total of fifteen Cloud Plugfest events have been held over the past four years [1], and other events are scheduled or in the planning stages.
Market sector targets
The Cloud Plugfest series is open to participation by other standards organizations, individual developers, vendors and software framework projects. The series is open to the community, and other projects and organizations are welcome to participate and to make use of the tools provided by the Cloud Plugfest series, and to propose to sponsor an event to highlight developer interaction opportunities with their product, project or standard.
Interoperability and portability: existing and emerging standards that can foster trust in the cloud
Cloud Plugfests are organized get-togethers between participants who are active developers in cloud-oriented framework projects, cloud standards and software.
Cloud Plugfests are work-oriented gatherings of developers and participants in standards organization projects and framework project developers designed to promote interchange of methods, tools and techniques that are defined by the plugfest participants as being suitable to test features such as portability, interoperability, ease of use, self-consistency and security when used in a cloud setting. The main goal of these events is progress by the community at large, with a strong focus on opportunities for hands-on development.
Our primary goal is to leverage resources brought by participating organizations and individuals to further the above aspects of cloud computing software in an organized setting. Presentations are preferably brief and intermixed with extensive periods of active coding and comparison between techniques. The goal is to produce interoperable, portable, reliable, scalable software with good security and good use of state-of-the-art techniques. The experience is oriented towards members of the development community and intended to promote communication between and among project and product developers and standards organizations. It is aimed towards those participants who would like to see the output of their work used in practice in working systems.
You should attend the Cloud Plugfest to:
Benefit from first-hand information on how Cloud standardization is progressing and how to implement Cloud standards
Get support from experienced developers and SDO members to improve your implementation of Cloud standards
Learn how to integrate open standards implementations into your software project, and grow your base of users and implementers
Provide feedback and discuss with SDOs on which features are needed for your applications or use cases
Learn to use important industry standard testing tools
Develop personal relationships with some of the leading developers and open source project experts in the industry
Meet and discuss with standards implementers, SDO experts and testing experts
Test your implementations together with experts and help ensure interoperability across multiple implementations and standards
The Cloud Plugfest organizers invite all interested standards organizations, funded projects, and open-source efforts interested in interoperability, portability, security and other important aspects of functional cloud computing to contact us at planners@cloudplugfest.org or to follow the links for further information on how to participate that are on the cloudplugfest.org web site.
Business models to take new services to market – including spin-outs and new services transferring publicly funded research to the private sector
Developer engagement is the key focus of the Cloud Interoperability Plugfest series. When developing new techniques, new standards, or proposing and implementing new features of software in the cloud and distributed computing, big data or multi-endpoint edge computing, it is extermely important to have the opportunity to try out these new ideas in practice. Cloud Plugfests give develpers the opportunity to interact with each other and with other technology experts in a setting that is focused on producing progress on taking these new ideas to market and on implementing them in practice.
The feedback is valuable not only to software and standards developers, but to those who would like to assess the maturity of a new idea and to see how to implement it.
Why cloud is a helping hand for SMEs?
Cloud computing has special relevance to small and medium-scale enterprise (SME) markets because of the way in which it makes available a range of new tools that can be assembled and deployed in ways that are specific to the exact needs of the organization. To make best use of these techniques, it is important that tools are developed to meet these needs with interoperability in mind from the outset, so that the possibility of incompatible approaches is minimized, and so that the tools themselves are more likely to work together.
This positive situation will not happen by itself, however. To ensure actively that standards, best practice tools, and innovations from the software development community itself will actually work together, events of this type and community cooperative work to support them are important.
Events can be co-hosted with, or held immediately prior to or subsequent to organizational meetings of one or more of the participating sponsoring organizations of a Cloud Plugfest location.
For information on how to coordinate a Cloud Plugfest location as a component of one or more of your events, please contact the Cloud Plugfest organizers.
Links and references:
Authors:
Alan Sill, OGF, on behalf of Cloud Plugfest organizers group