Cloud to Take Up 28 Percent of Corporate IT Budgets by 2018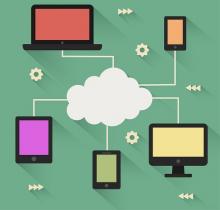 App integration with the cloud has drawn equal with data centers, but many ICT decision makers feel their cloud implementations are falling short of their potential, NTT Communications says. Its new report Cloud Reality Check 2015 shows that organizations need a new approach to cloud adoption to deal with the variety of platforms and complexity of applications.
The report was compiled from a poll of 1,580 ICT decision-makers in Europe and the US conducted in February and March.
By 2018, cloud will account for 28 percent of corporate ICT budgets, and 80 percent expect their organization to use more individual cloud platforms by then.
Despite this, 38 percent say their cloud falls short of its potential. Other responses may offer insight into why that is.
Fourty-one percent said that managing cloud vendors is confusing. Over one in five do not have timelines for migrating their most important applications to the cloud, with the greatest barrier being compliance, security, and governance of corporate data.
Len Padilla, VP Product Strategy at NTT Com, said: "Our study shows the reality of cloud in 2015 is potentially as complex as the world it was supposed to replace. ICT decision-makers harbor significant frustrations over cloud, and there are no clear answers over which kinds of applications belong where. This is the cloud reality check in 2015 – there needs to be a far smoother migration path from the data center to the cloud. A different kind of planning approach is required for companies to achieve the large-scale digital transformations business executives are demanding."
Padilla goes on to advise a tailored, incremental approach to cloud adoption for enterprises.
Half of those surveyed see the scalability of cloud as a benefit to their organization, while lower capex and opex are benefits to 47 and 45 percent, respectively.
To read the whole story, please visit the Whir.