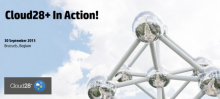 Event Date:
Wednesday, 30 September, 2015 - 10:00
A Cloud of Clouds, made in Europe and secured locally
To meet the challenge of increasing cloud business and provide new growth opportunities for cloud related services in Europe, HP initiated Cloud28+, an HP Helion Network community aiming to build a single catalogue of cloud services offering high quality of service.
The core of Cloud28+ In Action! is maximising the benefits of the Community for local Service Providers, ISVs, System Integrators, Value Added Resellers, Distributors, builders of cloud environments and cloud technology providers.
You are invited to the fourth "think tank" event – Cloud28+ In Action! – with a packed agenda, and vital business–to-business networking opportunities:
A Digital Single Market for Europe – explaining the benefits and remaining barriers to completion

Cloud28+ In Action! – showcasing how it helps community members resolve the issues they face and turn them into opportunity

The Cloud28+ catalogue – making the best use of the service catalogue

Certification for cloud services – how the integration of certification tools will ease procurement steps and establish a trustworthy environment

Measurement and billing of services consumed – building flexible commercial models for cloud

Cloud28+ co-marketing - promoting community member services in the cloud world

Community governance - recommending a model for the governance for the Community
This must-attend event is for all cloud stakeholders, Service Providers, Independent Software Vendors, Value Added Resellers, Distributors, Governments and end-user companies.
Date:30th September 2015
Approximate timing:10:00 - 16:30 CET
Location:Sheraton Brussels Airport; Brussels, Belgium.


To learn more about Cloud28+, please click here

Cloud28+ In Action! Register here to secure your attendance