CloudWATCH Cloud Legal Week for Small Businesses, 16-27 November 2015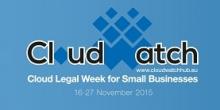 The CloudWATCH Cloud Legal Week is taking place 16-27 November 2015, in conjunction with the European SME Week.
If you are a small firm using or planning to use a cloud service, this is your chance to ask legal experts about:
Data protection compliance.
Cloud contractual obligations.
It's free, easy and quick.
Experts from ICT Legal Consulting will assess the questions for their relevance and publish the answers here on the CloudWATCHHub.eu.
What next?
There are two ways you can use to pose your questions:
1. Use this simple web form. 
To receive a notification of publication of the answers, please include your email.
2. Use this dedicated account on "Quora - the Question Q&A website" for your questions on cloud computing.
All you need to do is log in, and put your questions to our experts. 
You will get the answer in 10 working days from the end of the legal week on the Cloudwatch website. 
Disclaimer: The answers provided in the course of the initiative are intended for general guidance only. They are not intended to apply to specific circumstances or to constitute legal advice.  

Spread the Word on Social
You can use these hashtags to share information about the Cloud Legal Week:
#cloud #legalweek #ictlegalconsulting
@ictlc | @CloudWatchHub