CloudWATCH Cloud & Software Service Offer Catalogue - Promoting EU research projects to new users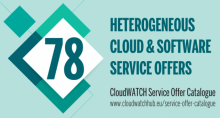 The challenge for Digital Single Market (DSM) is to ensure Europe retains its leadership position in research and innovation on cloud software and services. This leadership not only depends on Europe's ability to innovate at the technological level, but also to demonstrate tangible business value.
A New Catalogue of 78 Service Offers
The CloudWATCH Cloud and Software Service Offer Catalogue provides EC-funded Research and Innovation projects the opportunity to showcase their results and objectives to a wide community of potential users. With a strong emphasis on project results reaching the market uptake, the catalogue hosts over 70 service offers which highlight the cutting-edge solutions that projects are developing and which can improve the lives of European SMEs and public administrations.
With NetFutures 2017 and the Cloud and Software Services Concertation Meeting approaching, the CloudWATCH team have transformed the catalogue updating content and adding  new service offers from  newly funded Research and Innovation action and Innovation action projectsundercalls ICT-06-2016 - Cloud Computing; ICT-10-2016 - Software Technologies; ICT-21-2016 - Support technology transfer to the creative industries and EUB-1-2015 - Cloud Computing, including security aspects. In addition, the service offers are now easier to find based on target users and cloud computing characteristics.
Now the catalogue consists of 78 heterogeneous projects such as:
ElasTest, designed to help software developers and testers (including personnel from quality assurance departments) enhance their current capabilities of running end-to-end tests on their large complex distributed systems.

COLA, develops a generic set of services called MiCADO, that provide dynamic and automated resource scalability on clouds for all (or at least a very wide range of) applications.

DITAS creates a solution for proper data management that empowers the creation of modern and decentralized data-driven applications in the post-mobile world (Cloud and Edge/Fog) delivering an Open Source SDK and a framework with tools that offer a transparent layer that takes care of all the complexity behind data management.
The catalogue is online here and a printed copy will be available at the CloudWATCH Concertation Meeting at NetFutures 2017, 28th June in Brussels.
If you represent an EC-funded project which focusses on cloud and software services and you're not in the catalogue, then get in touch and we'll publish your service offer.