CloudWATCH project to boost uptake of cloud in Europe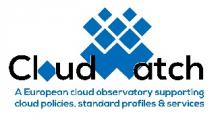 CloudWATCH press release, 16 September 2013 - CloudWATCH is a new European project that will identify and evaluate standards profiles, best practices & guidelines on cloud computing. The project will also create a long-term sustainable, digital platform to showcase the results of European cloud computing research and development projects and, more generally, offer key information for service providers and users in Europe for supply to meet demand.
The CloudWATCH project is being funded by the European Commission (EC) to evaluate competing cloud policies, standard profiles and services, working with providers and users to understand which standards should be adopted for which purpose. The ultimate goal is to accelerate and increase the use of cloud computing across the public and private sectors in Europe and educate SMEs how to choose the right service provider to take account of personal data protection and service level concerns as opposed to price only.
"Our results are aimed at all cloud providers and users," says Silvana Muscella Managing Director from Trust-IT Services Ltd "we want to help accelerate the uptake of cloud across Europe, especially SMEs who can think of CloudWATCH as their information hub for independent, practical information on the cloud, including steps towards adoption and overcoming legal barriers".
CloudWATCH will also change the way European cloud R&D results are communicated, highlight the benefits of cloud for Europe, educate people on the real issues facing the area and communicate the need for standards in cloud computing. This will be achieved by organising workshops to bring stakeholders together to understand the existing landscape and community better.
CloudWATCH will support the development of common standards profiles to support user community exploitation of cloud computing in the three areas of focus which can be endorsed by standards bodies". "e-Infrastructures and services have become an important part of modern education and research. Clouds are a core part of this", explains David Wallom, Associate Director of the Oxford eResearch Centre, University of Oxford".
Earlier this month, the CloudWATCH kick-off meeting in Tuscany, Italy set the agenda for activities led by 7 complementary partners, Cloud Security Alliance, DIGITALEUROPE, EGI.eu, Fraunhofer FOKUS, Trust-IT Services Ltd and the Oxford eResearch Centre, University of Oxford.
CloudWATCH is already running two sessions at the EGI Technical Forum on 17 and 18 September in Madrid. The project also hosts a focused networking session on cloud for businesses and an exhibition stand on European R&D at ICT2013 in Vilnius, 6-8 November.
Partners will also develop the CloudWatchHUB.eu digital platform to promote European smart cloud services, educate users in understanding benefits of cloud computing in real-world settings and ensure exposure to best practices for cloud standards profiles. John Higgins, Director General, DIGITALEUROPE emphasises the digital industry's perspective: "As a leading partner of the CloudWATCH consortium, DIGITALEUROPE will ensure that all relevant, reliable information is available at all times through a single point of contact and that face-to-face engagement with cloud suppliers and users keeps enhancing the mutual trust that is the foundation of Europe's successful transition to the cloud".
For more information, queries and how to contribute, please contact Stephanie Parker, s.parker@trust-itservices.com. Landing page: http://www.cloudwatchhub.eu/.