CloudWATCH2 Virtual Interoperability Plugfest - March 17, 2017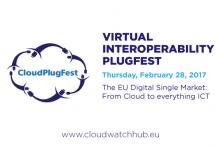 WHEN: March 17, 2017 - 9:00 AM – 5:00 PM GMT
WHERE: The Digital Space (see below) | No physical presence required
---
The EU Digital Single Market: From Cloud to everything ICT
Let's face it: Digital transformation, and especially Cloud, Big Data, and IoT are well underway in their disrupting economies and societies worldwide. 
Some technologies and innovations are brand new, experiencing a storm of competition, experiments and failed avenues by themselves. Other technologies have found their niche and mature well towards large scale productisation - and yes, some are at the brink of becoming a utility, much like electricity, water, gas, oil and others.
How does this affect Europe? How does it affect the European Single Market, and particularly the Digital Single Market? We want to know the state of the art, which technologies exist, their maturity and level of collaboration and interoperability. 
Which standards are adopted by the stakeholders, and on which level of maturity? How large is the pool of adopting digital products and solutions, and how interoperable are these?
We want to find out, together with you.
And, we want to do it in a public way so that we not only learn about the state of the art, but also to give you the opportunity to find new test partners - the more you expose your solution to the real world, the more reliable and robust it will become!
Digital people means digital testing
Developers are busy people, and can't afford spending a few days of travel, meeting and coding, only to find out whether their software works well with other software.
We all are digital natives, and we therefore should use digital means to test interoperability as much as we can: Make use of the benefits of digital tools that we promise to others!
We'll meet online; no physical attendance required. The only thing we require, really, is that you register your attendance with us for planning purposes. We won't use the data you submit for anything else! 
To protect the privacy and any eventual business intelligence you may learn, we also ask you to electronically sign (i.e. accept) an NDA when registering - this is necessary to allow commercial participation. So, please, take it seriously.
In a nutshell, this is how it's going to go:
- Register for the event, and accept the NDA.
- During registration, tell us more about what you would like to test
- We update the event page with the technical details of what will be tested (not who!)
- Short before the event will start, we'll email out the technical details of where to share and record information and results.
- During the event, we'll be using digital services to enable communication, testing, collaboration, etc.
- Once the event is over, access to these services are going to be closed, for data protection and privacy reasons (and to comply with the NDA).
Services we are going to use are:
- Eventbrite for registration and NDA acceptance
- Mailchimp as mailing and notification medium
- Google Drive and Documents to store data (using a commercial subscription with safe Terms and Conditions)
- Google Hangouts for chat and audio
What are we going to do with the collected data? Why do you collect it?
- First of all, we are going to keep it safe.
- We want to analyse the information, anonymise it, and publish the anonymised information as publicly available analysis for anyone participating in the Digital Single Market.
- Make the data available to participants, however still under the constraint of the accepted NDA of the meeting.
What?
We do not restrict our audience to those implementing cloud services, or IoT, or Big Data, or anything else. Nor do we restrict ourselves to service implementations with interface interoperability: Information models, data structures, interface communication, anything is welcome!
The only thing we ask you to help us with is to tell us what you want to test, and how, during registration!