Contracts, SLAs and Code of Conduct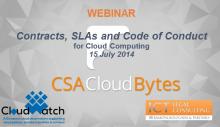 This webinar clarified what are the most common contractual issues between the parties of a cloud contract.
Some of issues covered: Jurisdiction, Service Level Agreements, Privacy Level Agreements and the Code of Conduct for Cloud Service Providers.
Speaker:
Lucio Scudiero (ICT Legal Consulting)
Watch again here: http://bit.ly/W3qZfT
/First we
binar in the framework of CloudWATCH project in CSA CloudBytes format.