From Europe to Brazil: CloudWATCH promotes EU tools & services to largest cloud market in Latin America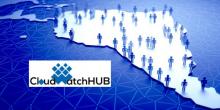 Cloud computing is a key enabler for emerging technologies (e.g. Internet of Things and Data Science) while being a catalyst for economic growth and new business opportunities – creating new business models, accelerating innovation and changing the economics of industries. Although, it requires research advances and international business cooperation to fully realise its potential.
According to Asia Cloud Computing Association (ACCA), Brazil is 8th place on world raking of countries with best conditions to exploit cloud computing market. Plus, Brazil has the largest cloud computing services market in Latin America, expecting to be $1.1 billion by the end of 2017, an impressive rise compared to $217 million in 2012.
As world leader in research and innovation on cloud software, Europe has a huge opportunity to promote cutting-edge cloud services to this massive Brazilian market, namely from top-class European research projects. Brazil provides the chance to develop a transatlantic cloud market and bringing business benefits to both Europeans and Brazilians.
European Commission is driving for a more robust international dialogue towards cross-border use of cloud services with Brazil, and CloudWATCH is supporting this international exchange in the area of cloud and software.
CloudWATCH on front-lead to support Brazilians for an easy cloud adoption
To do this, CloudWATCH is organising a workshop at Cloudscape Brazil, an event organised by EUBrasilCloudFORUM project taking place on 5th July during Congress of Brazilian Computing Society (CSBC), in São Paulo (Brazil). The workshop "From Europe to Brazil: Free tools and services for easier cloud adoption", showcases secure and interoperable Open Source cloud computing services which can improve the lives of ICT SMEs in both Brazil and Europe by enhancing their competitiveness.
CloudWATCH will also showcase the CloudWATCH2 Catalogue of Cloud and Software Service. Nick Ferguson, CloudWATCH coordinator & Trust-IT says:
"This is an excellent opportunity for CloudWATCH to showcase the game-changing services for SMEs that EC-funded are developing."
CloudWATCH legal guides and support tools will also be showcased by Nicola Franchetti, CloudWATCH Legal Expert & ICT Legal Consulting.
The session will see EC-funded projects show their cutting-edge services. CloudTeams will demonstrate how their cloud-based platform makes much easier software development for cloud services. Melodic targets those who want to run data sensitive applications within a defined security, cost and performance boundaries in distributed cloud infrastructure. They will be joined in the session by Brazilian SMEs. USTORE will demonstrate how high volumes of unstructured data can be storage and implemented faster in big data applications.
Window to +50 European cloud services for EU-BR market uptake
The CloudWATCH Service Offer Catalogue showcases 50 cloud services develop by top-class European research projects. Each service offer demonstrates how cloud and software services can have a key role in in extending the market and in bringing business benefits to both the supply and demand sides.
CLoudWATCH's participation at Cloudscape Brazil helps to consolidate a strong tie between Europe and Brazil. CloudWATCH has been in discussion with StartUp Brasil programme, from Brazilian Ministry of Science & Technology & Innovation, to support European excellence in mutual showcased European & Brazilian cloud computing excellence projects.
An open exchange with stakeholders from both Europe and Brazil is critical for building common consensus and for delivering practical guides on how Cloud services can help business and research activities.
CHECK CLOUDSCAPE BRAZIL AGENDA