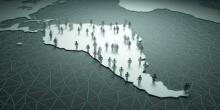 Event Date:
Tuesday, 1 August, 2017 - 09:00
CloudWATCH2 took an active part in the Cloudscape Brazil 2017 event, held on the 5th July 2017, in São Paulo (Brazil), a forum which demonstrated the considerable potential market between Europe and Brazil in this field and how productive transatlantic collaboration could lead to a significant step forward in research.
This was an excellent opportunity for Startups, SMEs and EU-BR research & collaboration projects to promote their products and services to users and partners from around Europe and Brazil. The event gave visibility to research analysts, industry representatives, SMEs, start-ups and policy makers from both sides of the Atlantic, while enabling them to engage with potential partners.
CloudWATCH2 enabled European SMES & EU-funded projects to join the event and promote their services to a potential international community of adopters and partners
European & Brazilian SMEs side-by-side to unlock the potential transatlantic cloud market
CloudWATCH2, along with EUBrasilCloudFORUM, co-organised a session entitled "From Europe to Brazil: Free tools and services for easier cloud adoption". An international panel of European SMEs & EU-funded projects, along with their Brazilian counterparts, discussed how secure and interoperable services can improve the lives of EU-BR SMEs and users.
Three European SMEs had the opportunity to explain how they came to deliver services emerging from top-class European research projects and showcase new cloud tools to facilitate cloud adoption
The CloudTeams project, led by Fraunhofer FIT, had a successful launch and rollout with its target users and customers in Europe, after developing a go-to-market strategy as advised in the MTRL framework. By inviting CloudTeams to the Cloudscape Brazil Conference and WCN 2017 the CloudWATCH2 consortium enabled the project to network with potential partners and customers from both sides of the Atlantic. Being published in the CloudWatch Service Offer catalogue increases the visibility in new markets and extends the commercial exploitation of the CloudTeams results from Europe to Brazil. Sabine Kolvenbach and Clemens Putschli, Fraunhofer FIT, CloudTeams H2020 Project.
How SMEs can play a relevant role in Cloud Computing Market
European panellists shared the view that there is a need to rapidly create solutions fitting user needs, as the quicker the response, the bigger the financial return will be for the cloud service provider. Yet, companies have to consider the security aspects of the service provided. This could be resolved through co-operation with other companies, with a view to developing cloud solutions with the level of security desired by customers.
Another aspect discussed was how policy can play a role to support SMEs in providing trustworthy cloud services. It is imperative to move away from the popular belief that only large companies can provide Trustworthy cloud for Industry 4.0 and recognise that there is also room for SMEs to provide these services.
In order to exploit the potential of the cloud market, SMEs should be more active in R&D projects with European/Brazilian industry and universities. In addition, future projects should be more focussed on a specific topic. More resources should be ear-marked by funding agencies to create transparent programmes in support of SMEs in the sector, with due consideration of the ways to fund SMEs and start-ups. Public funds can play a major role in enabling SMEs and start-ups to provide trustworthy cloud computing services. Both Europe and Brazil, and particularly the latter, should increase funding available to support small industry players.
EU Projects have a voice on future EU-Brazil Research & Innovation Roadmap and Action Plan related to Cloud Computing
Cloudteams and SecureCloud, both projects supported by CloudWATCH2 and included in the CloudWATCH2 Service Offer Catalogue, contributed to theEUBrasilCloudFORUM EU-Brazil Research and Innovation Roadmap and Action Plan related to Cloud Computing by submitting a Position Paper, which was published in EUBrasilCloudFORUM and promoted at Cloudscape Brazil 2017 participants.
Nicola Franchetto (ICT Legal Consulting and CloudWATCH2 partner) submited also a Position Paper entitled "The alignment of Brazilian Bill no. 5276 with the European GDPR".
Giving the floor to SMEs - Pitch session with European and Brazilian SMEs and Start-ups
European & Brazilian SMEs pitched their company's story, services & objectives to a global audience of research analysts, industry representatives, SMEs, start-ups and policy makers from Europe and Brazil. An engaging session ensued, where participants from both sides of the Atlantic networked and discussed potential opportunities for collaboration.
MELODIC PITCH
MyMeedia PITCH
A service offer catalogue with the crème de la crème of cloud computing services
This panel was chaired by Nicholas Ferguson, CloudWATCH2 coordinator, who illustrated the CloudWATCH2 Service Offer Catalogue, an online repository showcasing cutting-edge results and Open Source Software tools available for uptake by Brazil and Europe.
In addition, the audience were invited to obtain a "Legal Recommendations on European cloud computing services" booklet, with a set of guidelines to help SMEs, governments, public authorities, research communities and academia to select the cloud service provider best suiting their needs and giving the most adequate assurance regarding the protection of personal data under current European law, and in particular the GDPR.
Know more about the insights CloudWACTH2 shared with the audience at Cloudscape Brazil 2017, thanks to the participation of Nicola Franchetto (ICT Legal Consulting and CloudWATCH2 partner)
A promising future cloud computing landscape between Europe and Brazil
CloudWATCH2 played an important role in providing European SMEs and Cloud Projects with a unique opportunity to share trends in European markets, and how they could meet demand for the next wave of cloud computing, creating new scenarios for collaboration.