EuroPrise - The European Privacy Seal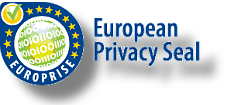 Name of the programme: Europrise
Governing of the standard: EuroPrise GMBH, with a board of stakeholders including the German Data Protection of Schleswig-Holstein.
Accreditation Body/Bodies: EuroPrise GMBH accredits independent third party auditors based on an evaluation. Third party independent auditors are accredited by the Europrise Certification Authority. Third party auditors evaluate the product or service and produce an evaluation report. The seal is awarded after report has been validated by the Europrise Certification Authority.
Scope: Data protection
Cloud-relevance: Not cloud specific (just like ISO 27001) but could be applied to a cloud service, and has already been awarded to a search engine and a behavioural advertising network.
Type of certifiable organisation: Certifies IT products and services. Does not apply to organizations.
Type of trust models applicable: Evaluation by accredited independent third party auditors.
Is the certification proprietary or open: Proprietary
Programme, status (operational, in development): Operational
EuroPrise is a European certification scheme that certifies compliance of IT products and services with a catalogue of criteria that are based on the European Data Protection directives (95/46/EC and 2002/58/EC) and opinions of Article 29 working party.
The EuroPrise trustmark is awarded after (1) an evaluation by an independent accredited auditor and (2) the validation of the produced evaluation report by the Europrise certification body.
EuroPrise is currently governed by the data protection authority of Schleswig-Holstein (ULD) in Germany. However, starting on January 1st 2014, governance will be handed over to an independent private entity, EuroPrise GMBH, in order to account for the expansion of this trustmark.