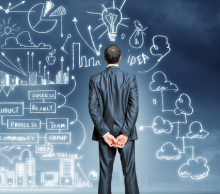 The Market & Technology Readiness Level ("MTRL") framework aims to provide decision makers with a holistic view of a project's maturity in a simple way - with a single score. It offers decision makers a faster way to assess, measure and support technology projects.
When does applying MTRL yield the best results?
The answer to that question depends on how you use it. There are 3 possible ways:
MTRL can be used as a quality checklist for project pitches and proposals. The structure of EC H2020 proposal templates is the result of a long development and improvement process and thus reflects the Commission's (and the proposal reviewers') need to understand the context, anticipated value and impact, and credibility of the execution plan of the project. The quality of the information conveyed in the project proposals directly resonates with the Four Fits model (see section 2.1.3 for more information). Used that way, MTRL can be used to assess the project's applicability, capacity and tenacity (ACT) of delivering the desired results.
MTRL can be used as a specific tool to formulate a go to market strategy. Used in the later phases of the project, MTRL incorporates tried and true marketing and exploitation methodologies. Substantiated through assessments for the CloudTeams and CLARUS projects, it provides a clear and focused action plan for the remaining time until the project ends, and support for the project in executing the last push towards completion. In that sense, this use case can be argued as "just" another project planning application (see below), yet it is sufficiently distinct in our mind to warrant separate explanation.
MTRL can be used as a project planning tool. In that case, periodic (re-)assessments combined with goal-setting future MTRL scores for the next phase of a project, the mere nature of the planned trajectory from current to future score provides scope and focus on the project priorities for the time ahead.
When does applying MTRL yield the best results?
The CloudWATCH2 project has provided EC funded projects with a number of methodologies on how they map on to the landscape of software services and cloud computing. While the first employs categorisation of projects offering straight-forward answers to questions of the "if this then that" category (i.e. categorisation along vertical markets, and cloud computing characteristics) the second methodology allows projects to seek answers in a more exploratory way: Statistical analysis provides a way to interpret qualified similarity of projects as a multi-dimensional clustering space with an answer that depends on the viewpoint of the observer: Answers to questions such as "Given the following scoring of importance, are there other projects are sufficiently similar to me, and how close are my next neighbours?".
Orientation & Observation when developing Project's Strategy
Yet, both methodologies are static analysis approaches. Though being relevant and useful in their own right, both methodologies merely provide orientation in an otherwise static landscape. But, successful project execution requires acquisition and processing of dynamic and often volatile information, making decisions, and acting upon them in an appropriate manner. To anticipate market participants' activities and future positions, one needs to observe direction and velocity of their movements.
The mechanics are known as the OODA loop of John Boyd
The influencing factors of this strategy cycle are Sun Tzu's "five constant factors", translated and interpreted as: Purpose (Moral Law), Landscape (Earth), Climate (Heaven), Doctrine (Method & Discipline), and Leadership (Commander).
The underpinning motivations that drive the strategy cycle are defined as the why of purpose, and the why of movement.
Figure: The strategy cycle according to S. Wardley.
The European Commission has started to implement a gradual transition from static and linear project execution to dynamic and iterative project leadership by emphasising the need for projects to put innovation management in place:
"Innovation management is a process which requires an understanding of both market and technical problems, with a goal of successfully implementing appropriate creative ideas. A new or improved product, service or process is its typical output. It also allows a consortium to respond to an external or internal opportunity."
In other words, innovation management is the application of strategic gameplay to EC funded projects.
With the co-joining of Technology Readiness Levels with Market Readiness Levels, the MTRL framework and methodology provides projects with the tools and processes to set, monitor and ultimately deliver against a project's outcomes. 
By adopting MTRL, projects implement innovation management as required by the European Commission.
Why startups should use MTRL: Helping them to get the full picture?
We believe that the approach described in this document is of value not only for EC-funded projects but also startups in general. This was trialled at the CloudWATCH2 final event with two MTRL workshops targeting both startups and projects. Whether the startup is developing a step innovation, a field product or service, or something with the potential of disrupting entire markets, experiences tells time and again that just developing it is not enough: On the road to the market, technological innovation albeit being important and at times a show stopper and is only one half of the entire story. The session focused on helping startups realise the importance of MRL and preparing the startup for being successful in the market.