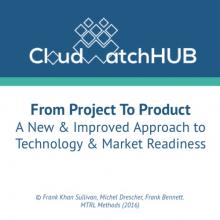 There is a need for Research & Innovation ("R&I") outputs to be useful, usable and used, and today, many such initiatives are for capabilities that will run in the cloud, use the cloud for test and development or scalability testing, or use cloud-centric platforms for services or microservices.
For many projects such as cloud-based purely digital or hybrid digital-physical workflows and processes, products and services, and/or customer-facing capabilities, these outputs may go unused despite greater emphasis being placed on increased 'impact' or 'sustainability objectives'.
This article overviews a new approach that has been trialed in the largest European Union research program ever. Developed with the support of the CloudWATCH2 project, this framework can increase the value of R&I project outputs as well as reducing individual project failure rates.
Technology Readiness Level
The current method for assessing technology maturity through Technology Readiness Levels (TRLs), fails to take into account who will use or pay for the technology. Just as technology must be readied for market entry, support systems and processes—which are increasingly digital and cloud-centric because they are IaaS-based or exploit SaaS functionality such as online knowledge bases, CRM, or billing—must be in place before a product can be successfully sold or a service offered, and customers must be ready, or enabled to be ready, to acquire and use the technology. The gap between technology and market readiness must be bridged with a better approach.
Market Readiness Level
We model the maturity of these support services and processes as 'Market Readiness Levels' (MRLs). The concept behind both measures is the same - both communicating at a high abstraction level the current status, as well as a future desired goal.
It is important to keep the following design goals in mind:
Readiness Levels (RLs) must be contextualized within the project domain;

RLs do not imply constraints on the size or complexity of the product/service;

RLs do not impose a level of maturity or perfection of the assessed domain;

RLs are independent of project management methods (e.g. Agile or Six Sigma.
Having these design goals in mind, Readiness Levels do not operate in the void; they are firmly embedded in business strategy, and milestones in the project roadmap.
Authors
Professor David Wallom is Associate Professor and Associate Director – Innovation of the Oxford e-Research Centre, where he leads the Advanced e-Infrastructure & Cloud Computing Research group.
Frank Khan Sullivan is the VP Marketing of Strategic Blue.
Michel Drescher is the Cloud Computing Standards Specialist of Oxford e-Research Centre at the University of Oxford where he drives the standardisation of Cloud Computing services in Europe and worldwide.
Frank Bennett (Independent Expert, Cloud Computing & Business Modelling) is Deputy Chair of the Cloud Industry Forum and Director of the Federation Against Software Theft.