GDPR Open Mic @CloudWATCH Summit, TQ Amsterdam. SUBMIT YOUR QUESTIONS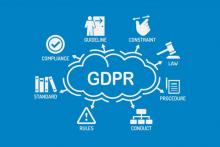 The forthcoming EU General Data Protection Regulation (GDPR) is the most sweeping change to the data protection landscape in the past 20 years. GDPR impact will be felt by every organization that does business in the EU or handles personal information of EU citizens in any manner.
Mr Nicola Franchetto, senior associate from ICT Legal Consulting, will chair the open mic session 13:30 – 14:15.
This session will be driven by you and your questions. No pitch from us, just open, honest tips to help you to understand what legal question to ask, and when to ask.
Nicola will offer guidelines to how organizations of various sizes and industries are preparing for the implementation of GDPR in next 2 years.
What do you want to know?
Submit your questions here http://www.cloudwatchhub.eu/summit/legal-questions by Tuesday 19 September 15:00 CEST.
Submitting questions in advance will help us determine the focus topics. We can't promise to answer every question, but all questions are welcome and encouraged. You can also leave your name or submit anonymously.